Model Tess Holliday Welcomes Baby Boy With A Rock Star Name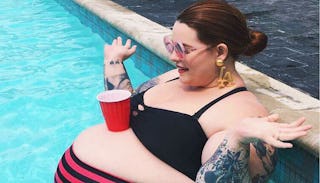 Image via tessholliday/Instagram
Tess Holliday gives birth to baby boy, Bowie Juniper
Model Tess Holliday announced that she gave birth on June 6th to a baby boy. The baby weighted weighed 8 lbs., 10 oz. and was 22 inches long. Holliday and her fiance Nick Holliday have named him Bowie Juniper, a moniker which instantly makes him the coolest baby in the nursery.
Baby Bowie joins his 10-year-old brother, Rylee. But since announcing her pregnancy back in January the 30-year-old admits that in some ways, having a decade long break between pregnancies made her feel like this was her first pregnancy all over again. "My friends that have babies are posting all of these new swings and breastfeeding techniques and new bottles, and it's really overwhelming because I thought, 'I've already done all this,' but it feels like I haven't," she told PEOPLE. "I'm having to relearn a lot!"
Along with her super successful modeling career Holliday also created the hastag #effyourbeautystandards, a body-positive movement that encourages women to embrace their bodies and love themselves as they are. (Seriously, the next time you get down on yourself in a dressing room or after trying on your swimsuit, try scrolling through this account, it's amazing.)
In spite of the fact that Holliday clearly doesn't give a rat's ass about other's opinions about her body, people still thought it was cool to tell her during her pregnancy that she didn't look pregnant, which prompted this mic drop of a 37 week selfie.
But for now Holliday can let her haters hate, and focus on the latest addition to her family. Which hopefully for her fans will include more adorable pictures like this one:
Congratulations!
This article was originally published on