Tess Holliday Shares Nude Photos With Empowering Message Of Self Love
by Leah Groth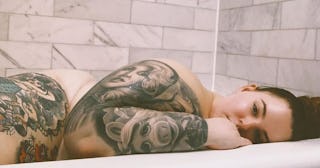 Tess Holliday/Instagram
Tess Holliday's latest empowering message encourages us to "eff" unrealistic beauty standards
Tess Holliday is one of our favorite self-love advocates. The model-slash-author-slash-feminist is on a mission to help all women – regardless of body shape or size – become empowered. Her commitment toward body positivity is truly inspiring, and her latest social media posts encouraging the world to reevaluate their beauty standards, are totally fierce.
On Sunday, Holliday shared a photo of her naked bod lounging in a bathtub, revealing the mad love she has for it. "Learning how to stand in my power again," she wrote alongside an Instagram photo. "To say no, set boundaries and keep my word. Through all of that, I'm learning beaituful [sic] new ways to love my body & it feels fucking good." She completed the post with her mantra, #effyourbeautystandards.
https://www.instagram.com/p/B3A4t20HVjp/
Last week she posted another stripped down snap, sharing about her self-love struggle. "It's not easy to choose love towards a body that so many find 'disgusting', & sometimes I wonder if that's why so many of us spend so much time hating ourselves," she pontificated. "To radically love yourself is hard work, but my god it's worth it."
https://www.instagram.com/p/B2zwfdfH2wt/
She then continued to explain that her body has served her well and taught her things about herself. "This beautiful body has carried two kids, survived so much abuse from others and from myself, and yet I'm still here… " she continued. "Still in awe of what we've created together."
Holliday also pointed out how her body has helped to inspire others. "I'm fortunate to be able to use my body as a tool to connect with others on a more intimate level (& no I'm not talking about sexual intimacy)," she wrote. "To be able to share my stories and to keep going despite so many obstacles in my way, to be able to see beauty where others see none, that's my gift. I chose myself, and I hope whoever is reading this can do the same."
Holliday has inspired so many people and is doing her part to remove the stigma attached to body types. She recently shared a photo from one of her workouts, pointing out that many plus-sized individuals do, in fact, exercise.
https://www.instagram.com/p/B1rE-EDHPI8/
"I snapped this yesterday after my workout because I felt cute! I never share these photos to prove anything, but it's a conscious choice to share the ways I move my body because it de-stigmatizes the notion that plus size folks aren't healthy/active," she wrote. She also pointed out that you shouldn't have to be perceived as "healthy" to be able to love yourself.
Holliday has also been completely transparent about everything from her mental health struggles to how she walked through accepting her post-pregnancy body in all of its glory, topics that so many of us can relate to. Her vulnerability is truly beautiful and inspiring. Continue walking the walk, girl. So many of us are following your lead.