Tess Holliday Wants You To Take Hot Pictures For Yourself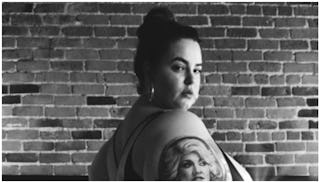 Image via Tess Holliday/Instagram
Tess Holliday thinks sexy pictures will make you feel more confident
Tess Holliday is a fierce, fabulous supermodel, author, advocate, and feminist. So, basically, whatever Tess Holliday says should probably go. And in this case, she wants you to take some smoking hot pictures of yourself — which means we should all probably disrobe immediately.
Holliday took to Instagram recently to share a picture of herself posing in bed, wearing a sexy black bathing suit.
"I would like to take a moment to thank whoever came up with the self timing feature on iPhones and all the apps too," she wrote. "Y'all are the real MVP's for giving me the power to take hot photos like this for my husband (he got the unedited ones, sry) & helping to boost my self esteem."
https://www.instagram.com/p/BgW0rY-BYTQ/?taken-by=tessholliday
Holliday went on to say that if your confidence has been down in the dumps, you should definitely try doing a hot photoshoot too. It can work wonders.
"BB's, listen to me: If you are feeling down, I highly recommend taking photos of yourself for YOU or a partner wearing lingerie or fully clothed, whatever feels good to YOU!" she said.
The pictures must be working, because Holliday and her husband couldn't look happier (or more fiercely dressed).
https://www.instagram.com/p/BgAhRKzhrBv/?hl=en&taken-by=tessholliday
https://www.instagram.com/p/BcbNKtrh_l6/?hl=en&taken-by=tessholliday
Side note: if the idea of posing in any sort of sexy way in front of a camera makes you want to run screaming for the hills – that's totally, totally fair. We can brainstorm other ways to feel sexy (some of which hopefully involve flannel pajamas, a pint of ice cream and never having to remove your clothes).
In the meantime, we should all live by Holliday's self-love message, which includes the immortal words: "Goodnight, sleep tight, don't let misogynistic jerks ruin your beauty sleep."
Amen, sister. Amen.