Texas Bakery Receives Hateful Messages Over Pride Month Cookies
by Erica Gerald Mason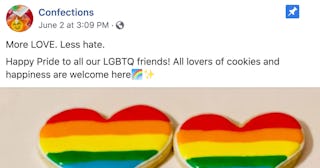 Confections/Facebook
In the latest case of People Getting Mad For No Good Reason
A sweet little bakery in Texas, aptly named Confections, posted a picture of their Pride Month cookies. The rainbow hearts were iced to perfection – and had this controversial statement as the caption:
"More LOVE. Less hate. Happy Pride to all our LGBTQ friends! All lovers of cookies and happiness are welcome here."
People got big mad. Over a cookie. That supports LGBTQ rights.
The store owners were understandably heartbroken.
"Today has been hard. Really hard," a Facebook post from June 3 read. "We lost a significant amount of followers because of a rainbow heart cookie we posted. We received a very hateful message on our business page canceling a large order (5dz) of summer themed cookies for tomorrow morning (that we just finished decorating) because of a rainbow heart cookie we posted."
"My heart is heavy. Honestly I never thought a post that literally said more love less hate would result in this kind of backlash to a very small business that is struggling to stay afloat and spread a little cheer through baked goods. So. If you love our cookies we will have an over abundance of them tomorrow. Hopefully tomorrow will be better."
A word to Karens: Every time you flounce away, a multitude of anti-Karens will replace you. And now, that sad post has led to a remarkable outcome.
Shared across social media overnight, the post went viral. There was a tremendous response to the bakery's struggle.
As soon as the bakery reopened on Friday, it was flooded with orders from all over the country. People were even lined up on the street to show their support for the bakery and pick up some sweet treats.
Confections didn't just sell out of rainbow heart cookies, they sold out of everything in the store. Damn straight.
Because you know what's better than a cookie? Pissing off homophobes.
Mark Cuban's brother, Brian Cuban, even said he would buy cookies over the phone to donate to local LGBTQ+ organizations.
"When things slow down a bit, let us know if shipping is possible. I'd like to support you," Cuban said. "If shipping isn't possible, I'll buy some by phone/email and you can donate my cookies to a local LGBTQ org or children's charity."
The bakery reopens on Tuesday from 10 a.m. – 5 p.m. and they're sure to be flooded with more orders and love.
And to quote Confections:
"More love. Less hate. Always."