Texas Doctor Will Serve Zero Jail Time For Raping A Sedated Patient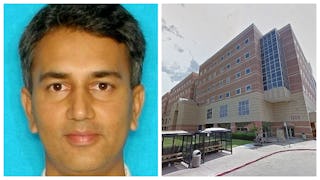 Image via Houston Police Department/Google Maps
A Texas doctor raped a patient but isn't being sent to jail
Last week, Shafeeq Sheikh, a Houston doctor, was sentenced to 10 years probation after he was convicted of raping a sedated patient. He lost his medical license and his job, but for some inexplicable reason won't serve any jail time for the crime he committed.
In 2013, Laura told The Houston Chronicle that she was lying in a hospital bed after an acute asthma attack when Sheikh entered the room. He told her that he had to examine her chest, and then reportedly put his hand on her breast and underneath her underwear. She was too heavily sedated to scream or put up a struggle, and when she tried to press the call button nothing happened. Sheikh left the room, and when he returned he raped her.
"You're supposed to feel safe in a hospital," she told the Chronicle. "You never imagine something like this is going to happen."
The next morning, Laura woke up and said she found her hospital gown and underwear on the ground. Police later reported that the call button machine had been unplugged. She reported the crime and police were able to zero in on Sheikh, based on DNA evidence, surveillance footage, and the fact that he accessed Laura's hospital floor 12 times on the night of the attack.
It took two years for Sheikh to lose his medical license. When he went to court, he admitted that there was a sexual encounter but called it consensual. According to Buzzfeed News, Sheikh's attorney Lisa Andrews showed the jury pictures from Laura's Instagram as a way of shaming her — it's truly despicable.
"He made a mistake, but he didn't sexually assault her," Andrews said. "Here we have this Latina woman with her fake boobs that came onto that little nerdy middle-aged guy, and he lost his mind." Yup, I also want to throw my computer across the room too. Completely, completely repulsive.
In lieu of a prison sentence, Sheikh was given 10 years probation, a $10,000 fine, and must register as a sex offender. It's truly insane that this awful, awful crime didn't put the former doctor behind bars.
Laura, meanwhile, told KHOU11 back in 2015 that she hopes her story will help other women who have dealt with the same pain, trauma, and violation.
"I'm not only Laura; I represent lots of women, women who've been raped and mistreated," she said."I want to inspire and motivate these woman to find the courage to talk and speak up to get out of the pain they're in."