Texas Makes It Easier To Own Guns Despite Two Mass Shootings In A Month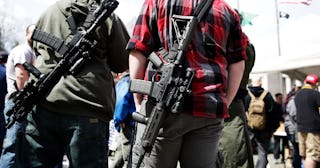 JASON REDMOND/Getty
Texas loosens gun laws just hours after the Odessa shooting took seven lives
Texas just loosened its gun laws, despite two mass shootings in the last month. Just hours after a shooter went on a killing spree in Odessa, Texas leaving 21 people injured and seven dead, the governor of Texas, Greg Abbott, defended the new gun laws that would ease restrictions on gun owners.
The 10 bills became law at the end of June and went into effect on Sunday, September 1. Collectively, these new laws loosen restrictions on gun ownership in schools, foster homes, churches, and apartment buildings. Schools can no longer prohibit employees from storing guns in their cars in the parking lot. Landlords can't prohibit tenants from housing guns in their rental units. The laws also make it easier to walk into a church with a gun and for foster homes to store guns.
As usual, proponents of the bill — including Texas governor Abbott — claim that more gun ownership will help people defend themselves, and yet, lawful gun owners and enthusiasts have yet to thwart or protect anyone during a mass shooting.
Kris Brown, president of gun violence prevention advocacy group Brady, was dismayed by the passing of the bill.
"Many states took the opportunity in the last two years to learn lessons from the tragedies in Las Vegas, Sutherland Springs, Parkland, and the every day gun violence that plagues our citizens, and enacted new laws to protect public safety through expanded background checks and extreme risk laws," Brown told CNN. "Texas lawmakers, instead… doubled down on an NRA led agenda to encourage guns everywhere, no matter the risks and costs to safety."
FBI Special Agent in Charge Christopher Combs also told CNN that the FBI is in Texas frequently now, due to the high volume of mass shootings. "[We're] here now almost every other week supporting our local and state partners on active shooters. We're almost every two weeks an active shooter in this country."
In Texas alone, the Odessa shooting on Saturday took seven lives and the El Paso shooting last month took 22. Across the entire US, 53 people died in mass shootings in August.
At a press conference (via Vox), Governor Abbot (who once encouraged Texans to buy more guns because he was "embarrassed" that California outpaced Texas in new gun purchases), stated that he would not limit access to assault rifles, seemingly breezing over the fact that assault riffles were used in both of the recent Texas massacres. As for the state's fears about future mass shootings, he only promised to "look at every issue" and recently tweeted that he was looking at a "legislative package" that would speed up executions for convicted mass murders.