Texas And Ohio Say Abortions Must Be Delayed During Coronavirus Lockdown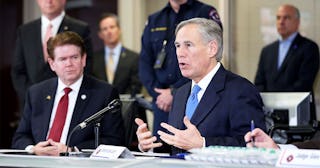 Tom Pennington/Getty
In Texas and Ohio, lawmakers are using the coronavirus pandemic to try to halt abortions
As the coronavirus continues to spread in the U.S., more and more cities and states are going into lockdown to encourage the strict social distancing necessary to slow the virus's spread. Many aspects of daily life have been affected, including nonessential surgeries and medical procedures, which have been widely canceled and postponed to free up staff and equipment in an already straining healthcare system. But in Texas and Ohio, lawmakers are now trying to argue that abortions should be considered nonessential medical procedures, and should be postponed during the pandemic response.
Texas officials just clarified today that their weekend announcement that nonessential medical procedures would be postponed does include "any type of abortion that is not medically necessary to preserve the life or health of the mother." That move follows a similar one by Ohio lawmakers last week. In Texas, violating the order could result in fines of up to $1,000, or jail time. It's not immediately clear whether the order also postpones medical abortions, which are done by taking pills.
The announcements have caused women's health activist groups to scramble to ensure access continues to be allowed. Lawmakers in both Ohio and Texas claim they made the move to protect public health and free up needed medical equipment as shortages loom. They also argue that abortions weren't singled out—dermatological, ophthalmological, dental, and orthopedic procedures are also being postponed.
But the difference is that for a procedure to be truly "nonessential," it needs to be able to be performed safely once the coronavirus crisis passes. Abortions have a timeline, and if women are forced to delay their procedures, by the time lockdowns end, it may very well be too late.
Luckily, clinics in Ohio are so far defying state orders, and have continued to operate. They're arguing with the state's attorney general that abortions are, in fact, essential, and say they have no intention to stop providing the procedures to women who need them. "Planned Parenthood's top priority is ensuring that every person can continue accessing essential health care, including abortion," its statement reads. "Under that order, Planned Parenthood can still continue providing essential procedures, including surgical abortion, and our health centers continue to provide services that our patients depend on."
Now, what remains to be seen is whether other states will follow Ohio's and Texas's lead, and try to use this public health crisis to exert control over women's bodies.
Information about COVID-19 is rapidly changing, and Scary Mommy is committed to providing the most recent data in our coverage. With news being updated so frequently, some of the information in this story may have changed after publication. For this reason, we are encouraging readers to use online resources from local public health departments, the Centers for Disease Control, and the World Health Organization to remain as informed as possible.
This article was originally published on