Texas Parents Sue For School Mask Mandate On 'Right-To-Life' Grounds
by Erica Gerald Mason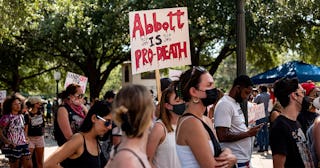 Jordan Vonderhaar/Getty
In a true testament that we are living in the upside down times, parents are suing – using the Republican playbook
Life comes at you fast. One minute a portion of the electorate speaks about protecting young lives and the next that same electorate says they don't need to protect their kiddos against the deadly Delta strain of the novel coronavirus. Whew.
Parents in a conservative area of Texas are flipping one of Governor Greg Abbott's talking points on its head, claiming in a new federal lawsuit that the state's school mask policy threatens the lives of their children, Bloomberg reports.
By following the state's order to keep masks voluntary, parents say, the Allen Independent School District violates their kids' constitutional "right to life" by exposing them to coronavirus.
The parents are suing the school district and board to make them require masks, and in doing so, hope to represent the entire district of 21,000 of students — roughly a third of whom are too young to be vaccinated.
One Twitter user ​​posted about Texas' legal turmoil: "Guys, it's fine. Given the current understanding of what a, "right to choose" means in Texas, we should soon be able to report anyone who puts someone else's life at risk [by exposing them to COVID]. I'm sure we can expect a reporting system & $10K fines very soon."
Another Twitter user pointed out how the Venn diagram of freedom of choice for me, but not for you tends to intersect over a certain segment of the population.
"And there's a lot of overlap between the kind of people who support the new Texas legislation on ab*rtion, claiming to "preserve life" and those anti-COVID-vax people who argue personal choice when they're very much putting my baby at risk for their "right to choose."
According to the parents' lawsuit, the right to life, and by extension, the right to health, overrides the accompanying right to personal liberty, which conservatives use against mask mandates.
"1. A heartbeat doesn't confer life, nor does it confer sentience," a Twitter user posted. "2. "There can be no justice so long as laws are absolute". 3. Texas defends the right to life—unless you've got COVID."
Allen district resident Christina Cabral's 4-year-old son has a genetic disorder and is preparing to enter preschool. Last year, Allen did a stellar job of tackling the pandemic, she said, with remote learning, social distancing, contact tracing, and masks, but they have since ceased to use those methods.
"There's an absolute unwillingness to engage in any conversation," Cabral said in an interview. "Parents felt they were forced into this avenue."