Baseball Player Uses 'Baby Shark' As Walk Up Music Because Parents Gonna Parent
by Julie Scagell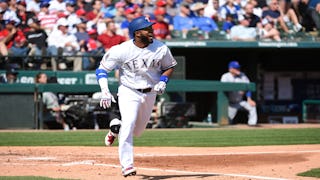 Image via Getty Images/Cooper Neill
There's been no word if fans have gotten the tune out of their heads since
Baby shark, doo doo doo doo. If you're a parent of a young child or aren't living under a rock, you can finish that sentence — hand gestures and all. In most cases that song makes most of us want to scratch our eyeballs out — except for this next one.
Texas Rangers shortstop Elvis Andrus was up to bat for the first time this MLB season on March 28 in Globe Life Park in Arlington, Texas. Since he's a baseball player, you know he has to have walkout music, which is usually something that pumps the player up. But this new dad decided to take it to the next level and play one for his son.
"I don't see how that can't be great," the announcer said on the broadcast as Andrus walked out to "Baby Shark." "People are gonna love that."
Fox Sports Southwest reporter Emily Jones told viewers she spoke to Andrus during the game and he told her, "It's my boy's favorite song." He has a 20-month-old son Elvis Jr. The MLB also posted a clip, noting that he hit a homer. "Coincidence? We think not," they said.
People were very much here for his choice:
https://twitter.com/jetpack/status/1111673363880177666
"Baby Shark" swept the nation in the past year, precipitated the "Baby Shark Challenge" that had kids, police officers, firefighters, and celebs like Ellen Degeneres acting out the lyrics — many jumping out of their cars to do so. It even made its way onto the Billboard Top 100 in 2018, came out with a Valentine's Day version of the hit, and even hit shelves in Play-Doh form.
For Andrus, it wasn't just a one-time thing. "If you don't like it, you better get used to it, it's not going away," he said this week, according to The Associated Press. "Hopefully 'Baby Shark' can hit well. … At least get me one hit a day, it's going to stay."
He may be a professional baseball player, but he's also a dad. He and wife, Cori, welcomed Elvis Emilio in 2017 and he could not be any cuter or more deserving of some "Baby Shark" love at all of the games. Andrus and his wife also have a baby girl, Lucia Alessandra.
https://www.instagram.com/p/Brq7YBqBUgv/
Andrus told MLB.com that he doesn't want to go overboard for his son, saying of his first Christmas, "I don't want to spoil him too quick. But I know his two grannies have bought a bunch of gifts already, so we'll see. I talked to them and said, 'Don't get too crazy.' He is not even a year old," he said. But he can absolutely spoil him with music, which is exactly what he did.
With over 2.5 billion views on YouTube since its release, it's clear "Baby Shark" isn't just Elvis' favorite tune. It's catchy, funny, and the epitome of what a kid's song should be. I'm sure all the fans at the Rangers game under eight years of age were dancing their way through the night.