Texas School Bans Parents From Walking Kids Home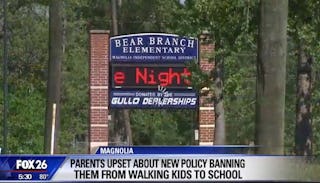 Texas school's new policy forces parents to wait in long car pick up lines
A Texas school principal has made a controversial decision that is pissing a lot of parents off. She decided the school pick-up protocol was "unsafe" — so she changed it. Drastically. Parents are now not allowed to walk their kids home from school at Bear Branch Elementary. Some parents have claimed the principal has threatened them with arrest if they try.
The only options for families are to either have their kids ride the bus or wait in long pickup lines — parents report the lines take an hour or longer to get through with no one walking. The school is losing students over the policy that's been in place since the beginning of the school year.
"She's threatening to arrest people," Wendy Jarman told Fox 26 about principal, Holly Ray. Jarman pulled her kids out of school Monday and placed them in a private school. Jarman and her kids live in a neighborhood behind the school. Her kids were walkers and she escorted them, which she can no longer do. Jarman claims parents have been threatened with arrest if they step on school property.
Frank Young is another parent who has been affected by the policy and pulled his children out of school. He told Fox 26 "Mrs. Ray's policy is implying that a parent doesn't have the ability or capability to decide what is safest for her children and that the school district does," Young says. "I disagree." The school responded to the news station's request for comment by saying they fully support the principal's decision, saying the goal is for a "safe dismissal process."
The safety issue presumably stems from the fact that the school is located near a busy five-lane highway. A spokesperson for the Magnolia Independent School District told KPRC 2 News the new dismissal process was put in place to ensure the kids' safety. There are 639 students who attend the school and the spokesperson insists the dismissal process takes 30 minutes or less.
Parents who only live a few blocks away are still being forced to drive to school to pick up their kids — and are understandably annoyed. "People start lining up here about 2:30 p.m. for a 3:25 p.m. dismissal," a parent told KPRC 2 News. "It's a ridiculous situation for everyone," another parent said. "I got here shortly after 2 p.m." Can you imagine sitting in a school pickup line for over an hour. That's enough to make any parent's head explode.
There's got to be some way to come to an agreement about what is safest for the kids, rather than making such a sweeping policy change. Regardless of whether or not the move was made in the best interest of safety, any time you have a situation where you are not allowing parents to feel involved in sweeping decisions that affect their own lives and time — there will be pushback. Parents claim there has been no response to a petition with hundreds of signatures on it that they presented to the district.
The principal's "my way or the highway" mentality is a bit much, and it's only going to piss a lot of parents off. People do not like to be told what to do, especially with their children.
What a mess.
UPDATE: Here is the full text of the statement from the school explaining the policy.
This article was originally published on