Students Sent Home With Incredible Note From Teacher Reminding Them They're More Than Their Test Scores
by Maria Guido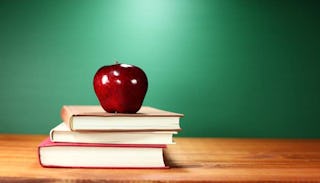 A Texas student came home with a note from her teacher this week, ahead of the State of Texas Assessment of Academic Readiness exam for math and reading. No, it wasn't a reminder to study. It was proof that we forget how invested so many of our teachers are in supporting our children.
Regardless of how you feel about standardized testing, there's no denying that teachers and students feel a tremendous amount of pressure to perform. It's a stressful time for teachers. Which is why it is so incredible that this teacher took the time to step back from the stress and pressure and send her students a clear message: you are more than your test scores.
An amazing thing happened when a photo of the letter was shared to Facebook last night. Teachers left comment after comment telling about a similar thing they had done, or talking about how much their students had touched their lives. Parents weighed in, too:
"I mailed these out the week of our SOL testing here in VA when I taught 3rd grade a couple years ago. A parent told me her child still gets it out every year before the tests. That is what my job is all about!"
"Teaching is hard. Really hard. But it is so rewarding too. Working with kids who are excited about learning makes teaching so amazing! They are so creative and imaginative! These assessments (whichever one your child takes) don't show what the child can really do."
"For 35 years I was a teacher. I worked with three generations of students, and I still enjoy it when somebody comes up and asks, 'Remember me?' The writer of this letter is a teacher, like me. We understand that teaching is not a 'science', it is an 'art form'…"
"My son's kindergarten teacher told him that it wasn't a test–'You're just going to show the computer all of the cool things you've learned and that you know.' I was so impressed with her ability to take all pressure off of the kids."
"Thank you all for your beautiful words about teachers!! It broke my heart today to see so many of my beautiful junior high students discouraged after seeing a number on the screen after our state test. ONE number. I wish the legislators could be the ones to watch their faces as the computer tallies up their score."
As luck would have it, National Teacher Appreciation Day is coming up in a few weeks. Let's all try to remember to let the teachers in our kids' lives know that we see them, too. That they are more than just the scores they produce. I remember the name of every teacher that made an impact on me as a child. I don't remember a single question that I answered on a Scan-tron.
"You are smart. You are enough. You are the light that brightens my day… Remember that there is no way to 'test' all of the amazing and awesome things that make you, YOU!"
What a great teacher.
Related post: A Note Of Appreciation For Teachers
This article was originally published on