Texas 3-Year-Old Dies After Accidentally Shooting Himself At His Birthday Party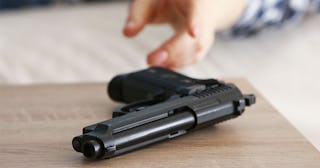 serezniy/Getty
This incident ties Texas for the state with the most children killed by accidental shootings this year
The United States continues to lead the developed world in gun violence, but one of the most heartbreaking statistics is the number of kids who are injured or killed by accidental shootings. When kids gain access to unsecured guns, tragedy can happen. And we've just seen it happen once again: A 3-year-old boy in Texas has died after finding a gun that fell out of a relative's pocket and accidentally shooting himself in the chest — at his own birthday party.
According to law enforcement, the accidental shooting happened in Porter, Texas, a suburb about 30 miles from Houston.
"Family and friends had gathered earlier to celebrate the birthday of the three-year-old, and while playing cards, heard a gunshot," the Montgomery County Sheriff's Office said in a statement. "The child was located with a gunshot wound to the chest. Our thoughts and prayers go out to the family and friends of this tragic accident."
Texas authorities said the gun had fallen out of a family member's pocket while the adults at the party were playing cards. Family members rushed the little boy to a nearby fire station, where he was pronounced dead.
This story is absolutely tragic, but only made worse by the fact that it isn't even that uncommon. This is the fifth child to die from an accidental shooting in Texas this year, tying the state with Tennessee for most of these kinds of incidents in 2020. Nationwide this year, there have been at least 229 accidental shootings by children, resulting in 139 injuries and 97 deaths, according to activist group Everytown For Gun Safety.
Moms Demand Action and Students Demand Action are both a part of Everytown's activist networks, and the Texas chapters of the two organizations released a joint statement about this shooting.
"Our hearts break after news of this awful shooting, and we're keeping this family in our thoughts," said Christine Parker, a volunteer with the Texas chapter of Moms Demand Action. "With more children home during the pandemic, secure storage is more important than ever. There is so much at stake."
These organizations estimate that 4.6 million children live in a home where there is a gun that's loaded and unlocked. During the pandemic, when many families are spending more time at home than usual, they stress how important it is for guns to be safely and properly secured — in all homes, but especially ones where children live.
"According to the #NotAnAccident Index, there were at least 35 gun deaths as a result of unintentional shootings by children from March to May 2020 — a 30% increase compared to average gun deaths during these same three months over the last three years," a statement read. "As of October 9, there have been at least 229 unintentional shootings by children, resulting in 97 deaths and 139 injuries in 2020."