Thai Boys Rescued From Cave Honor Fallen SEAL By Becoming Novice Monks
by Julie Scagell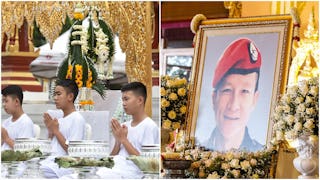 Image via Getty Images/PANUMAS SANGUANWONG/AFP
The boys will spend the next nine days living in a monastery
As the world looked on, 12 boys and their coach were rescued from a Thai cave a few weeks back when Navy SEAL divers were able to reach them and pull them all to safety. Unfortunately, one of the divers died during the mission and the boys are now honoring him by becoming novice monks.
Thailand's Wild Boars football team spent 18 days inside the Tham Luang cave after getting trapped by monsoon floodwaters. The boys, ages 11 to 16, were trapped inside as rescuers tried frantically to save them. Navy SEAL diver Saman Kunan was one of the rescuers sent early in the rescue to place oxygen tanks along the passageways of the cave. He died when his tank ran out of air.
The boys were only recently told about Saman's death after a medical team said they were strong enough to handle the news, the Guardian reports. Many broke down in tears after learning about the tragic event.
To honor his memory, most of the boys and their 25-year-old coach took place in a Buddhist ceremony to be ordained as novice monks. The boys, heads shaven, will spend nine days living in a monastery, "a tradition for males in Thailand who experience adversity," BBC News reports. One of their teammates, Adul Sam-on, is a Christian and decided instead to perform a ceremony at his church.
The ceremony is intended to be a "spiritual cleansing" for the group and to take time to honor and remember Kunan for saving their saves, at the risk of his own.
Thai navy SEALs also paid tribute to Kunan, a gifted triathlete, calling him a "skilled and talented SEAL," in a statement. "Even after he departed the SEAL unit, he still kept in touch and maintained a tie with the rest of his former colleagues. He always participated in the SEAL activities until the last step of his life," the statement read. "Saman left us while working as a diver and in a time where all divers joining forces to complete the mission. His effort and determination will always remain the hearts of all divers."
"They should spend time in a monastery. It's for their protection," Seewad Sompiangjai, the grandfather one of the rescued boys told BBC News. "It's like they died but now have been reborn."
The practice is considered to be a big honor in Thailand and one these boys will likely never take for granted.
This article was originally published on