Thalassophobia Is The Little Known Phobia Almost Everyone Has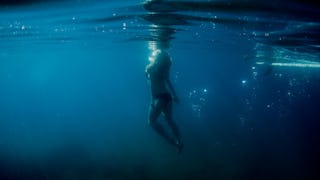 Vernonwiley/Getty
Have you ever been in a body of water and thought any of these things? Yup. That was a flesh eating fish that touched my ankle. A whale is going to overturn this boat. I know I am surrounded by sharks right now. Fuck, I hope my family knows I love them, because this is the day I get sucked into a bottomless whirlpool of never ending darkness.
RELATED: Are You Afraid Of The… Escalator? These "Weird" Phobias Are More Common Than You Think
Now, if you had visual proof of these things, then your fears are totally just. But if you are just trying to enjoy your vacation on the beach, but can't get over the fact that the water is just too murky, too unknown, and too dangerous, then you have thalassophobia: the fear, perhaps abnormal fear, of the sea.
It's just water, folks.
What could go wrong?
Right. Plenty. We really have no idea what is living in the ocean. But whatever it is will surely kill us.
That's probably not poisonous.
And those guys are probably afraid of humans.
Thalassophobia means some people can't even go to the movies.
So Jaws is out of the question?
I mean what are the chances you could be swimming off of your boat and have a shark get you?
Okay, fine. Just stay in your boat. You'll be fine.
That reminds me of swimming in lakes, rivers, and ponds as a kid. A leech stuck to my foot one time—a very Stand By Me moment with less blood and passing out, but dramatic nonetheless. I still can't go into fresh water without being convinced there is a water snake or blood sucking something waiting to use me as a host.
I actually love the water, and if I don't think about the unknowns the ocean can be really relaxing. Let me show you.
What is this?
What if we hit an iceberg?
WTF is happening here?
I have always wanted to try surfing. All set now.
And I am pretty sure thalassophobia covers this nightmare of the sea too.
The support group meets every Tuesday in the desert.
This article was originally published on