Thank You To My Friends And Family Who Turn Down Chik-Fil-A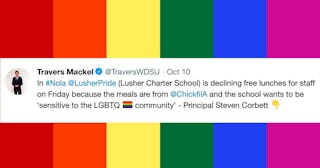 Scary Mommy and Travers Mackel/Twitter
Remember this summer how Chik-Fil-A and Popeyes were in a viral battle over who had the best chicken sandwich? Yeah, that was stupid. The ridiculous spat between the fast food chains showed that our country is willing to get heated over unimportant debates. People are dying from racism, xenophobia, trans and homophobia, but sure, get caught up over a sandwich.
And too many people are housing and food insecure, yet folks were throwing tantrums and posting petty comments about their consumption (and inability to get it because Popeyes' supply ran out) of over-priced fast food. Thankfully people did see through some of the nonsense to note that none of it matters because Chik-Fil-A is a proud anti-LGBTQ business. Their bigotry makes their food trash.
Chik-Fil-A donates money to anti-LGBTQ organizations like The Fellowship of Christian Athletes, Marriage & Family Foundation, and Exodus International. These groups work to prevent and stop same-sex marriage. They spread messages that say 'purity' only comes from heterosexual and cisgender relationships. And they believe in and advocate for dangerous and deadly conversion therapy.
For those of you who didn't get caught up in the Chicken Taste Test of 2019 because you refused to support a company that has proudly and loudly donated millions of dollars to organizations that fight against my rights, and the rights of my children and family, thank you.
As a queer, nonbinary person and a parent to a transgender child, I promise I see those of you who take a stand on my behalf and for the other people—strangers and loved ones alike—who identify as LGBTQIA+.
And if you call yourself an ally but still eat at Chik-Fil-A, you need to return your ally membership card right now. Because I see you too.
Allies don't give money to the people who go out of their way to hurt the queer people they claim they love.
Allies find a different place to grab a chicken sandwich and lemonade.
Several years ago my sister-in-law told me that she and her family were no longer going to eat at the fast food chain, which is closed on Sunday because of religious beliefs (in case you weren't sure what the business was built around.)
And please save your "not all Christians" sermon. Chik-Fil-A founder S. Turett Cathy was a devout Baptist and believed that Sunday should be used for worship, and his son, current CEO, Dan Cathy believes in the "biblical definition of the family unit." The Cathys are a religious family who do not support LGBTQ people and our rights because of their faith.
Once my sister-in-law realized this, she knew the right thing to do was to find another place to eat. This act was a huge sign of love and acceptance. She was showing her allyship to me and my then partner, and she was making a sacrifice because Chik-Fil-A was one of the few places she felt comfortable getting take-out from, or stopping to eat while traveling, with my nephews who have severe food allergies.
I have seen the lengths my sister- and brother-in-law have to go through to be sure my nephews don't get sick from the food they consume. It's exhausting and worrisome. But she told her sons that it didn't feel like too big of a sacrifice to find another place to eat, or pack more food in the cooler, if it meant supporting family. My nephews, who were not older than 10 at the time, agreed. Not only did my sister-in-law take a stand but she amplified marginalized voices and continued to give my nephews the tools to be allies. I really appreciate her.
I understand that it can be daunting to know the politics and "opinions" of all places where we do business. It can be easy to play ignorant when we find out we have been giving money to a company or person who stands against our moral code. Let me help. The Human Rights Campaign's latest Corporate Equality Index is a great place to see what workplaces offer inclusive and affirming spaces and business practices. An ally will give money to people who make it part of their business plan to support all sexual orientations and gender identities.
An ally doesn't eat at Chik-Fil-A. An ally doesn't give money to churches who openly denounce queer people. And an ally doesn't purchase a rainbow t-shirt during Pride month without first making sure most, or all, of the proceeds go to an LGBTQ business owner or LGBTQ organization that fights for equality. Too much money is taken out of the pockets of marginalized folks through discrimination and false advertising of the LGBTQIA+ community support.
An ally takes a stand where and when they can. A principal in Louisiana did just that. Steven Corbett, the principal of Lusher Charter School, turned down an offer from the Louisiana College Football Foundation after the group offered free lunches from Chik-Fil-A to his faculty and staff.
He got both support and disgruntled disapproval for his actions.
But Corbett made it clear that he values the lives of the LGBTQ people he works with more than accepting a free meal. He also reassured folks that the staff would still be able to enjoy a free meal from another more open-minded and progressive restaurant.
I get it. Chik-Fil-A's food is tasty and might be home to your favorite chicken sandwich and waffle fries. But you are going to have to choose between me, your allyship, and your indulgence. I personally don't consider eliminating a restaurant a sacrifice if I know my actions support someone I love, but that will be up to you to decide.
If you are having a hard time seeing why it hurts me to see you eating Chik-Fil-A, you may want to order a bigger Diet Coke to wash down all of that bigotry. You are not an ally or a friend.
Not taking a stand feels like you are standing against me and my rights, and standing on top of my heart instead.
But, to the friends and family who take a stand every day to not feed into the machine that is fueled by ignorance and fear, thank you.
This article was originally published on