Let's All Be Thankful We're Not Sitting In This Ridiculous Thanksgiving Traffic
by Madison Vanderberg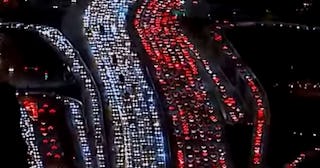 ABC News
Annual aerial footage of Los Angeles two days before Thanksgiving looks like an apocalyptic nightmare
Note to self: Don't go anywhere near Los Angeles on or around Thanksgiving. In what's becoming an annual tradition for the city of angels, aerial footage of the area near Los Angeles International Airport is going viral for showing blinking red and white break lights stopped for miles in either direction.
"It's that time of year again," ABC News wrote on Instagram. "Southern California travelers are on their way to see family and friends. But the glow of traffic on the freeways paints a not so pretty picture for those sitting in vehicles."
If you're not the one actually sitting in that traffic, it's actually quite a sight to behold. It's like the city dressed up like a candy cane. Lol.
The traffic started up on Tuesday, November 26 — two days before Thanksgiving. It's wild to look at, but imagine if there was an national emergency? There is no way out! Actually, don't imagine that — it's terrifying.
If you live in Los Angeles or are headed that way, the rush isn't over yet. The airport is expecting more than 200,000 to arrive and depart from LAX the day before Thanksgiving, so those red and white lights aren't going to be letting up anytime soon.
As for the rest of the country, the Transportation Security Administration (TSA) (via ABC News) expects to screen 26.8 million passengers nationwide over the holiday weekend, up 4% from last year. INRIX, a global transportation analytics company, anticipates that today (November 27) will be the worst day for Thanksgiving road travel and says normal drive times might take up to four times longer than usual, so keep that in mind even as you drive to see your in-laws down the street.
As a Los Angeleno myself, I will be posted up in the comfort of my home and plan to walk to the grocery store later to buy a pie. Sorry, but this is the only and correct way to experience a hassle-free Thanksgiving in Southern California.