The 2016 Goop Holiday Gift Guide Is Here To Confuse You And Make You Feel Poor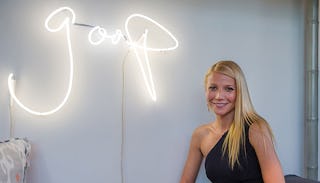 Image via Layne Murdoch Jr./Getty Images
Rejoice! The 2016 GOOP Holiday Gift Guide is here
YES. It's that time of year again: the GOOP Holiday Gift Guide is here! You'll laugh. You'll cry. You'll feel poor. It's a holiday tradition!
That's right, every year Gwyneth amasses a list of ridiculous gifts that no one can afford, and the internet makes fun of her out-of-touch ass. This year she's labeled the insanely expensive part of her list as "The Ridiculous But Awesome Gift Guide" which translates to "HAHAHAHAHA, LOOK AT HOW RICH SOME OF US ARE."
She's really outdone herself this year. Let's enjoy together, shall we?
"Saddle up." Get it? Sort of? Saddles are made of leather. So is this $3000 bike, dummy. You can't afford it anyway, so GOOP doesn't care if you get their joke or not.
Sublimotion Dining Experience, no one knows the price
We tried to book a reservation and thus figure out WTF this is and how much it costs, but the server recognized our IP address as "tediously middle class" and refused to let us make a reservation, translate the page, or reach the server. Sublimotion isn't an actual word, but sublimation is, and it's "from the Latin word sublimare, meaning "raised to a higher status." Ha. Of course.
Vintage Limoges Banana Box, $395
Sorry. It's sold out.
You can dress your pet up, get their portrait done, and then get this custom $7000 necklace made. Or you can just set a pile of money on fire and laugh like a maniac. Your choice.
Microsoft Hololens Development, $3,000
"The HPU makes light work of processing a large amount of data per second. All those components and more enable you to move freely and interact with holograms." Um… yeah, we got nothin'.
Groovyyurts Super Ger 20′ Yurt, $8,300
Why buy a tent, when you can buy a yurt? "Glamping doesn't begin to cover it," says Gwyneth.
Good news, we can afford it. Bad news, it's fucking toothpaste. Gwyneth's poking fun at herself with this one by simply captioning it, "To go with last year's fancy toothpaste squeezer," which now looks like a bargain since it was chrome-plated and just $100 more than this toothpaste.
Oh, Gwyneth. Never change.
This article was originally published on