The Babies 'R' Us Annual Trade-In Event Is Here And It's Better Than Ever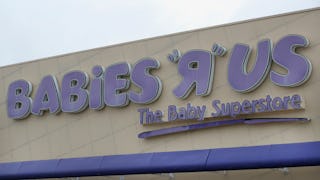 Image via Getty Images/Getty Images News/Scott Olson
Babies 'R' Us expands trade-in event to include clothing and crib mattresses
Babies "R" Us's annual trade-in event is back with more perks than ever before. The event starts Sunday February 11th for loyalty card members (check your key chain tags, it's probably hiding there!) and Friday February 16th for all other customers. The event runs until March 18.
Parents can bring in used baby items in exchange for 25% off one piece of new baby furniture or gear. If you're a Babies "R" Us credit card holder, your discount gets bumped up to 30%. Now you finally know what to do with the busted stroller that's been collecting dust in the basement. If you're eyeing something special, check the website for details on which brands are eligible for the discount.
It appears the baby gear gods have heard our pleas, because this year crib and toddler mattresses have been added to the list of items that are eligible for trade-in.
This year marks the first time that baby clothes and shoes are on the list of eligible trade-in items too. So grab that bag of tiny small onesies from the back of the closet and hand them over for a sweet discount. Donating at least one clothing item will earn you a 25% discount off an in-store clothing purchase through March 18. The best part? You'll save while helping others — Babies "R"Us has announced they're working with local charities to find homes for the gently used clothes donations they receive.
Here's the complete list of everything that's eligible for trade-in, because no one wants to haul a bouncy seat into the trunk for no reason:
bassinets
bouncers
car seats
car seat bases
clothing
clothing accessories
cribs
crib/toddler mattresses
entertainers
high chairs
infant chairs
infant swings
jumpers
playards
pop n plays
shoes
strollers
toddler/twin beds
travel systems
walkers
Even if you don't have anything to trade in at the moment, you can still score a sweet discount. Head online during the sale for 15% off the purchase of a baby furniture or baby gear item or grab your keys and head down to the store for 15% off one baby item.
Cleaning out clutter and scoring a good bargain always give us a bit of a rush, but the company has a bigger goal in mind than helping its customers save money. "Safety has always been the root purpose of the company's Trade-In events – and that hasn't changed," the company said in a press release. "In the eight years of events, Babies"R"Us has removed millions of unsafe products from the market, reducing the chance for children to be injured… Families are encouraged to trade-in items that could be a potential danger."