The Bachelor's Ben And Lauren Broke Up. No One Saw That Coming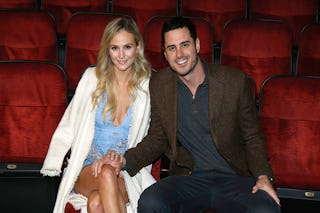 Image via John Lamparski/Getty Images
The Bachelor's Ben and Lauren break up
The Bachelor's Ben "I'm a total douche but everyone thinks I'm nice" Higgins and Lauren "I don't really like Ben" Bushnell have called it quits. Exactly zero people are surprised.
On Ben's season of The Bachelor, Ben declared his love for two women, then dumped one the very next day. Yes, he literally said "I love you" to two Bachelor contestants — one of those two lucky ladies was Lauren. The other was JoJo. JoJo went on to be The Bachelorette, so she was cool with it. Lauren "won" her season, and ended up moving in with Ben. It was all documented on Ben and Lauren: Happily Ever After? Note the question mark. It's like producers met these two after they figured out the concept of the show, then had a quick meeting that went something like this:
Producer 1: "I know we said we were calling this Ben and Lauren: Happily Ever After, but she obviously hates his fucking guts. She would put a question mark at the end so when this relationship inevitably dissolves on live TV we cover our tracks?"
Producer 2: "Whatever."
Here's an Instagram post from last week, where Ben uses an MLK quote to describe Lauren. Huh.
During their season, Lauren caught a case of Bacheloritis. It's that thing all contestants on The Bachelor and Bachelorette catch, that makes the men and women they are courting seem flawless and desirable. The minute the camera stops rolling, Bacheloritis disappears, and the women and men are left to nurse their horrible choices and new fiancé's. In Lauren's case, she inherited a man child with a Medieval cosplay obsession. Ben inherited a roommate who hates everything — including talking, smiling, and breathing the same air as him. Lauren always seemed unbelievably annoyed on Happily Ever After?
Ben kept his medieval costume hidden until Lauren actually moved in with him, and Lauren stopped pretending she liked things. Their fauxlationship was doomed.
To add a little extra touch of awkward to the break-up, the two are hosting Disney's Fairytale Weddings, a 90-minute special about planning your perfect Disney wedding.
The couple told People, "It is with heavy hearts that we announce our decision to go our separate ways. We feel fortunate for the time we had together, and will remain friends with much love and respect for one another. We wish nothing but the best for each other, and ask for your support and understanding at this time."
Ben is nursing his broken heart eating a giant drumstick right now and Lauren is somewhere frowning freely.