by Laurie Ulster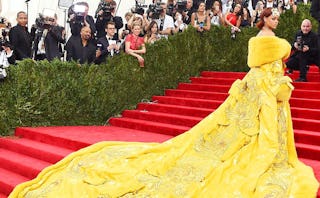 Some people rise to social media, and some people have social media thrust upon them. Such was the case at the Met Gala last night, the annual fundraiser at New York's Metropolitan Museum of Art. While the stars strutted the red carpet in their headdresses, capes and underwear-free dresses, the online world pounced with comparisons, parodies and comments just as quickly. Behold, the power of the Internet.
Anne Hathaway was clearly still celebrating May 4th.
But Sarah Jessica Parker's headdress one-ups the head wrap.
For those who prefer a more old-school reference, there's this one.
And while Jennifer Lopez got more comments thanks to her underwear-free outfit and the magic of double-sided tape …
… it was Rihanna who inspired the most creativity.
And here's what all the food lovers on the Internet compared her to.
Not everyone with Rihanna comments was a foodie, though.
And sharp eyes pointed out details others may have missed.
This article was originally published on