2015: The Year Of The Viral Pregnancy Announcement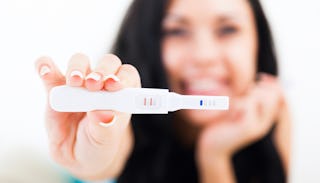 Image via Shutterstock
Video, or it didn't happen. The year viral pregnancy announcements took the internet by storm.
Viral pregnancy announcements were a huge social media hit in 2015 with every-day couples becoming internet "famous" overnight by way of a cute video making the rounds. In this digital age, people are always looking for bigger and better ways to share their exciting news and the internet has made it incredibly easy for it to spread like wildfire. Check out the year's most memorable viral pregnancy announcements and get ready for more in 2016, because we doubt this trend is going away any time soon.
A husband surprised his wife with her own pregnancy.
Arguably the best-known viral pregnancy video of 2015, YouTube husband-and-wife vloggers Sam and Nia shared a video of Sam surprising Nia with the news of her own pregnancy — by taking her urine from the toilet and performing the test himself. The video of Sam sharing the positive test and telling his wife she's pregnant quickly went viral racking up millions of views in only a few days but sadly, the pregnancy ended up miscarriage. The couple posted a video of that announcement as well but happily, they've since shared that Nia is already pregnant again and due next spring.
An engagement announcement became an accidental pregnancy announcement.
Miranda Levy and her new fiance set out to happily share the news of their engagement on Facebook. As you do in 2015. It became a bonus pregnancy announcement when the pair forgot to toss out the box from the pregnancy test Levy apparently took moments before. Eagle-eyed Facebook friends called her out including her father, who requested that she call her mom to clear up the confusion. Levy realized their error and quickly confirmed that the couple was indeed expecting. A word to the wise — before you post a photo on the internet, really look at it and make sure there's nothing you'd rather not reveal to your social media circle.
This couple made a mini horror film to tell the world they're expecting.
Gavin Holt and his wife went completely next-level with their elaborate pregnancy announcement by creating a three-minute horror film that ends with their happy news. Holt posted the end result to Reddit, where it was praised for its quirky style and hilarious ending. This video proved that a pregnancy announcement doesn't need to be precious and adorable to be well-received.
A dad got baby news instead of an Apple watch.
Catie Reay decided to surprised husband Chad for his birthday by tricking him into thinking she bought him an Apple watch — only to reveal the news that he's going to be a father. Reay's tearful and heartfelt reaction won over the internet quickly with the sweet video reaching over 11 million views in just three days. He opens the box excitedly, thinking he's getting a cool gadget, only to be surprised by something even better — his wife's positive pregnancy test. We dare you not to cry over this one.
The "Bun in the Oven" baby and his early birth.
After charming the internet with their adorable "Bun in the Oven" video where Dana Griffin-Graves revealed to husband Arkelle that they were expecting, the news of their infant son's extremely premature birth broke hearts the world over. The couple had tried for 17 years to have a child and Dana waited until nearly her fifth month of pregnancy to tell her husband, as they'd had their hopes dashed so many times before. Kaleb was born at just 24 weeks but thanks to updates from his parents, we know that he's improving every day. The couple's most recent post shows that although he's still in the hospital, Kaleb is gaining weight and growing stronger every day. We wish them all the best in the new year and hope that their little boy will soon be home.
A man finds out during family game night that he's going to be a grandfather.
Alexa Goolsby told parents Robert and Sharla Anderson she was expecting in the most fun and creative way. The close-knit family has game nights and that's where Goolsby and her husband shared their happy news by way of the "Whisper Challenge," a game Jimmy Fallon plays with his guests. One person wears noise-cancelling headphones while trying to lip read what someone else is saying. Alexa did the whispering and though it took her father a few minutes to catch on, his ecstatic reaction captured the hearts of millions as the video quickly spread. Goolsby is due in May and we're sure her dad will be the happiest grandfather of all time.
This article was originally published on