Pre-Order Now: The Boss Baby Is Coming To DVD This Summer
by Sara Farrell Baker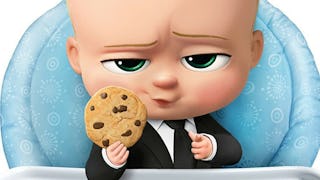 Amazon
Family movie nights always feel like special occasions to me. I love the ritual of everyone getting into their pajamas and cozying up with blankets on the couch. Popcorn and a little candy are staples as we settle in to watch a favorite film together, or maybe one we weren't able to catch in theaters.
The Boss Baby is Dreamworks' newest movie coming to DVD. It's currently on pre-order and will be officially released on July 25.
Alec Baldwin is the perfect choice for bringing the HBIC (Head Baby In Charge) to life. When this corporate cherub arrives at the home of his new family, he starts giving orders left and right. Almost immediately, his older brother becomes resentful and suspicious of this baby who is monopolizing his parents' time and attention and also carries a…briefcase? It's a silly movie with plenty of laughs and a few heartwarming moments, and sure to please all inhabitants of your couch if you break it out for your own movie night.
You can prepare your family for the in-house showing by grabbing a copy of the Marla Frazee book the movie is loosely based on.
The Boss Baby became a staple on children's bookshelves when it was released in 2010. Reimagining all the exhaustion that comes with taking care of a new baby as cowing to the needs of a demanding CEO, The Boss Baby arrives in suit and tie, armed with a briefcase and an order for a stiff bottle. The book tells the story of this family trying to adjust to their adorable tyrant through watercolor drawings and witty banter.
If you're looking for even more Boss Baby in your life, have no fear — there's a sequel! The Bossier Baby tells the story of your favorite tiny tycoon once again. But this time, he has a new baby sister, and she comes with her own list of demands.
The movie is loosely based on the books, so you won't be spoiling the entire story with either. And even without having a watch, the books are well-written and entertaining and stand perfectly well on their own. You'll be laughing either way.
This post contains affiliate links, which means we receive a small portion of the sale if you make a purchase using these links.