The 'Boy Meets World' Cast Reunited With Mr. Feeny And Your 90's Heart Will Explode
by Thea Glassman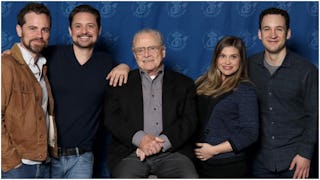 Image via Danielle Fishel/Instagram
This is not a drill: the whole Boy Meets World cast finally reunited with Mr. Feeny
Here's a little ray of sunshine to brighten your weekend. The Boy Meets World cast reunited at Emerald City Comic Con last week and William Daniels (aka the incomparable Mr. Feeny) made a cameo. Prepare for your 90's loving heart to feel many, many good things.
It took a little bit of coaxing to get Daniels' on-board for the reunion, as evidenced by a video posted by Will Friedle (Eric Matthews). Much to every single fan's delight, Friedle recreated the iconic "Feeny" call, fence and all.
The whole gang came together for a series of reunion photos and you'll feel like you're back at John Adams High School all over again. *Cue the theme music immediately.* Ben Savage (Cory Matthews) posted a picture with Daniels and wrote: "Always my teacher and friend."
I told you that you'd feel things.
Danielle Fishel posted a picture of everyone together, alongside the caption: "Dream. Try. Do Cons" (a wink to Mr. Feeny's last words in the show's finale).
Daniels has developed quite a following for his role as everybody's favorite teacher/eternally cranky next door neighbor.
"I remember we were in New York and we were coming out of the theater after a matinee and there was a bus full of kids. They came out of the bus as I passed them going down Eighth Avenue, and they started yelling, 'Feeny! Feeny!" he told Buzzfeed. "Well, the brave one that I am, I ran around the block just to get away from them. There was a whole bus of them yelling 'Feeny!' while coming after me — a busload! I just ran."
And his castmates have equally formative memories of their time on-screen with Daniels.
"When Mr. Feeny said 'class dismissed,' which still gets me, and then we wrapped, this huge wave of emotion went over me," Savage said during New York Comic Con in October. "Like, 'wait, wait no! One more take!' I'll always remember that moment. It was like someone was closing the door on our childhood — but in a good way! It definitely left an impact."
Well, it looks like we should all probably spend our weekend rewatching every single episode of Boy Meets World. Coming for ya, Cory.