The Trailer For 'The Christmas Chronicles 2' Is Here!
by Valerie Williams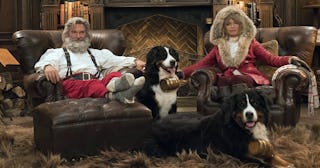 Netflix
The trailer for "The Christmas Chronicles 2" is here and we can't wait for November 25
It might only be mid-September, but 2020's current vibe has us extremely ready for the joys of the holiday season. That's why we're thrilled with the news that Netflix released the trailer for The Christmas Chronicles 2 — and it's coming to our TVs very soon.
The sequel to 2018's instant classic starring Kurt Russell as Santa Claus is set two years after the original story. "Kate Pierce, now a cynical teen, is unexpectedly reunited with Santa Claus when a mysterious troublemaker threatens to cancel Christmas … forever," reads the movie's description.
"It's been two years since siblings Kate (Darby Camp) and Teddy Pierce (Judah Lewis) saved Christmas, and a lot has changed," the sequel's synopsis reads. "Kate, now a cynical teenager, is reluctantly spending Christmas in Cancun with her mom's new boyfriend and his son Jack (Jahzir Bruno). Unwilling to accept this new version of her family, Kate decides to run away. But when a mysterious, magical troublemaker named Belsnickel threatens to destroy the North Pole and end Christmas for good, Kate and Jack are unexpectedly pulled into a new adventure with Santa Claus (Kurt Russell)."
The film is written and directed by Chris Columbus of Home Alone and Harry Potter fame and co-stars the one and only Goldie Hawn, so you know it's gonna be good.
If you didn't see the first film, you might be a little bit lonely. In the first week of its release on the streaming giant, the movie was watched 20 million times. If you were to compare that to the first week of a traditional theatrical release, that's a gross of $200 million. People are clearly here for Kurt Russell's Santa Claus.
And with the addition of his long-time real-life partner we can only imagine the new levels of magic the sequel will achieve (it's their first time starring in a film together since 1987's Overboard). It hits the platform on November 25th, so stock up on cocoa and blankets — you have a holiday date in a little over two months.