Winter Dream Outfit: This Giant Sweatshirt Is Actually A Blanket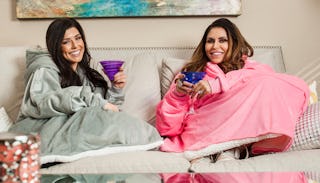 Image via Brian Speciale/The Comfy
We'll take a dozen, please
Happy New Year! Well…maybe not too happy. If you're like me, you're probably up a few pounds from all that holiday indulging and Real Pants are currently your archnemesis. Plus, it's friggin' freezing outside. Fear not, y'all. We have the solution to your problems and it basically amounts to wearing a fuzzy blanket with a hood.
Our fluffy savior comes to us courtesy of The Comfy, a company that offers literal blankets you can wear that look just like a cozy sweatshirt — big pocket and everything. An appearance on Shark Tank got them an investor, and TL;DR, now we can buy the only outfit we'll need for the rest of winter.
Did you guys hear that there's a literal bomb cyclone headed our way? I have no idea what the hell that means, but I do know it's super cold in about 75 percent of the country right now, so why bother with pants and shirts? All we need is blankies, but we can't be naked, so cut out the middle man and wear one.
Isn't this just a Snuggie, you ask? Why no, it's not. Thanks for asking though. A Snuggie looks like drapes. This looks like it could pass for an actual sweatshirt, which means it's just fine for school pick-up. Or lying around on the sofa with your pup. The point is, there are no limits. No rules. Just you and a giant, wearable blanket.
Obviously it's your new wine drankin' shirt.
Or your new dancing around in the desert shirt.
Live life on your terms. And your terms are, "I get to wear a blanket-shirt or I shan't be attending."
They're even great for kids, according to The Comfy co-creator Brian Speciale. He tells Scary Mommy, "Maybe the most awesome thing is the Comfy is for everyone—men, women, and kids. Kids absolutely love them, which has blown us away. I can't get my 8-year-old out of his. And they look so darn cute!"
He's not kidding. They're very darn cute.
He says, "I have it on all day long. I look forward to putting it on in the morning. It's just plain amazing. We absolutely can't wait until others get to experience it."
You can buy The Comfy for the eminently reasonable price of $40 (and can you really put a price on being able to pass off a blanket as clothing? Nope. You can't). It's a total bargain considering all the joy and warmth it will bring. They're a little backed up right now and new Comfys won't be ready until April, but there's always next winter, and who knows how long this polar nonsense will last, so definitely place an order now.
When it comes to wearable blankets, you can never be too prepared.