The Differences Between 7-Year-Olds' Slumber Parties And 12-Year-Olds' Slumber Parties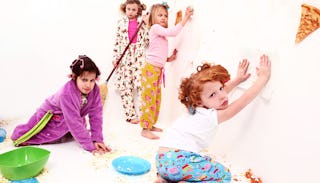 PLANNING
Then: Listen to 6-year-old talk for months about whether the theme should be all sports or just football, whom he will invite and what they will do. The guest list changes 47 times from January to June based on playground politics. Most of the conversations center around my kid trying to convince me that inviting 15 7-year-olds to a slumber party is a good idea (Spoiler: It's not).
Now: My son, husband and I have a three-minute planning conversation a week before the big day, when the birthday boy tells us that he wants a sleepover where they play Manhunt and Xbox and watch movies, like they do seven days a week.
SHOPPING AND SETUP
Then: Spend weeks planning food, decorations and games. Buy the equivalent of my paycheck in themed napkins, plates, piñatas and banners. Clean the house, set up decorations and wait for the arrivals.
Now: My son texts me a list of the snacks he wants. I go to the store and buy the equivalent of my paycheck in food. Decorating and cleaning consists of making sure there is toilet paper in the bathrooms and removing beer from the bonus room fridge (just in case). I put plates on the counter and water bottles in the fridge. I feel festive because I splurged for blue napkins since it is a party.
DROP-OFF
Then: Several parents don't want to leave because this is their sons' first slumber party. Assure them that you are not axe murderers and that their sons will be fine.
Now: All of the parents drop their sons off at the curb and don't even come in.
DINNER
Then: 30 exhausting minutes of helping seemingly 567 million children (my husband swears that there are only 15) put condiments on hamburgers, doling out grapes, picking out olives from pasta salad, cutting hot dogs for children who say their moms won't let them eat whole hot dogs (seriously?), refilling endless cups of lemonade, cleaning up spills from endless cups of lemonade. Decide that if we have another sleepover, we will order pizza—and that 15 boys is about 10 boys too many.
Now: Boys make their own plates of hamburgers, and no one touches the grapes that I put out to reduce my mom guilt. The boys go out on the deck to eat, even though the table is set in the kitchen. They shut the door so we can't hear their conversations. Husband pours me a glass of wine as we try to decide if we're happy we're not running around like chickens or sad that we aren't really needed. The jury is still out.
CAKE
Then: Kids clamor for the biggest piece of cake with the most icing.
Now: Tweens clamor for the biggest piece of cake with the most icing.
PRESENTS
Then: Thoughtful, age-appropriate presents of books, sports equipment, Legos and board games picked out by the parents, wrapped in colorful paper with bows or stashed in cute bags with overflowing ribbons. Most cards are handmade with drawings by the boys, drawn no doubt under force by their moms.
Now: One unwrapped iTunes gift card with no name on the back, four store-bought birthday cards with cash in them, one business-size envelope with cash in it (no note) with my son's name scrawled on the front. Bonus points to the boy who just skipped all the hassle of even bothering with an envelope and handed my son a $20 bill.
ENTERTAINMENT
Then: Spend hours as activity director for putting contests and cornhole tournaments and as referee of water-gun match. Don't sit down or breathe for three hours, except when waiting for the parents of the boy who sliced his foot open during an impromptu game of chase through my house to pick him up for the ER trip for stitches.
Now: No clue. I think they played Manhunt and other video games. The boys ran the party themselves (without incident) while I read a book. My attempt to help was met with an eye roll and "don't you embarrass me" look. All I know is that no one went to the ER.
MOVIE
Then: Spend several hours trying to find an entertaining movie that is age-appropriate and will not result in angry calls from parents.
Now: I tell the boys they can rent a pay-per-view movie that is PG or PG-13. I haven't even checked to see what is playing. I convince them that I have an alert on the account so that the cable company will call me (and wake me up) if they try to rent an R-rated movie. They are still young enough to believe me.
MIDNIGHT
Then: Begin the seemingly endless process of begging them to go to sleep, since I can't in good conscience go to sleep with them still awake.
Now: I don't even try to outlast the boys, since I am well out of their league and have no guilt about going to sleep. Turn on the house alarm so the whole neighborhood will be awoken if they venture outside. Tell the boys that the cops will come if they set off the alarm, and that I will see them in the morning unless someone needs me.
1:21 A.M.
Then: In a moment of desperation, tell the boys that whoever isn't asleep in 30 minutes will have to sleep in my daughter's room surrounded by pink stuffed bears. They believe me, and silence ensues.
Now: No idea. I was asleep.
2 A.M.
Then: After sleeping for precisely seven minutes, wake up to crying child in your bedroom. Hug them, comfort them, call their parents, wait for their parents. Have awkward conversation with a man you barely know in your foyer at 2:17 a.m. while desperately wishing you had remembered to put on a bra. Go back to sleep.
Now: No idea. I was asleep.
BREAKFAST
Then: I wake at 6 a.m. to bake a healthy and yummy breakfast casserole for the kids and serve it with four different types of fruit cut up in bite-size pieces. One boy finds a box of donuts in my pantry, and everyone stuffs themselves with donuts while the dog ends up with the breakfast casserole.
Now: A box of donuts on the counter with some paper plates and the leftover grapes from last night. Donuts gone in two minutes flat. My family will be eating lots of grapes this week.
AFTER THE PARTY
Then: House is a complete disaster and looks like a bomb went off in it. Birthday boy gives me a huge hug and tells me thank you for the amazing party. Crashes on the couch within four minutes.
Now: House is a complete disaster and looks like a bomb went off in it. Birthday boy gives me a huge hug and tells me thank you for the amazing party. He tells me that I am the best mom ever and begins arranging a trip to the bowling alley with the friends who literally left our house four minutes before.
This article was originally published on