Disney Just Opened A Dress Shop For Adults And It's Freaking Amazing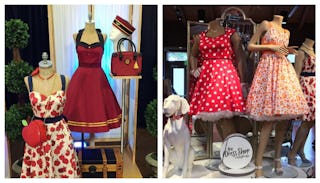 Image via Instagram
Disney's The Dress Shop sells stunning outfits that pay tribute to your favorite characters
If you're heading to Disney any time soon and aren't already into DisneyBounding, you might want to get on board. It's when you dress as a modern version of a Disney character instead of wearing the actual costume. Think of it as cosplay lite — a fun way to pay tribute without the elaborate garb.
Luckily, Disney is now catering to those who want to spend their time at the park appropriately Disney'd up and has a new store called The Dress Shop that will have any DisneyBounder positively squealing with delight.
As someone who isn't particularly obsessed with Disney, even I'm drooling at these outfits. The Dress Shop just opened a few weeks ago and according to Inside the Magic, some styles will soon be available online.
Merchandiser Donna Sorrow tells the Disney Parks Blog, "We designed The Dress Shop collection for guests who want to emulate their favorite Disney characters or theme park attractions in a fun, retro way. These items aren't costumes, rather the collection contains perfect outfits for guests who have a passion for Disney style."
The Disney Springs Twitter account has photos of several outfits and after taking a peek, your next stop will be nabbing airfare to Orlando, because holy cuteness.
Pay subtle tribute to Belle and her books in this absolutely incredible dress that I may or may not buy the moment it's available online, so help me god.
Obviously, you need a Chip purse to match.
How about this gorgeous retro number, a nod to the park's Enchanted Tiki Room attraction.
There are several outfits celebrating Disney rides. Here's a Haunted Mansion ensemble complete with matching handbags.
Be a pirate princess with this way-too-cute Pirates of the Caribbean dress and its coordinating loot. Loot. Pirates. See what I did there? I'm here every weekend, ladies.
We're straight up coveting this Hollywood Tower Hotel halter dress and ridiculously perfect Snow White apple design.
And how about this positively magical Alice in Wonderland get-up. We wish it came with her perfect, vintage hairstyle.
We honestly can't even handle it.
Since the items aren't available for sale online yet, we couldn't find an official listing of sizes, but commenters on Inside the Magic who visited the store say select styles are available up to 3XL and that unlike a lot of Disney apparel, the clothing runs big. The dresses run between $100-$160 and prices for accessories vary greatly.
Hopefully, it will all be for sale online soon. Until then, we'll just have to stare and dream, or hightail it to Disney.
This article was originally published on