The Emotional Closet Cleanse
by Rachel Levy Lesser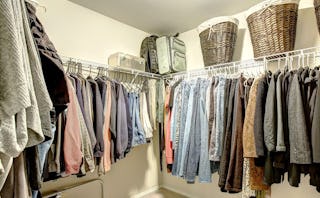 Spring cleaning abounds, and I am an active participant in the process. I'm always happy to clean out the garage—out with my children's old tricycles, the half-broken sled that went untouched for too many winters and the hedge trimmers that I was always too scared to use for fear of chopping off my hand while completely missing the bushes. I gladly gather old toys and stuffed animals from the basement and put them in the donation pile, while throwing out old notes and cut-out newspaper articles from my desk drawers. I can't even remember why I saved them. This cleaning out—it's a freeing process for me—it really is.
But my closet, that's another story altogether. My walk-in closet (full disclosure, I knew that I wanted to live in our house when I saw the walk-in closet while touring the space years ago with our real estate broker) looks a bit like an overstuffed, backstage costume closet for a musical showcasing fashions from the 1990s, 2000s and today (sounds like a SiriusXM channel, doesn't it?).
I've read all the magazines and listened to the organization and fashion experts on television who tell me that if I haven't worn it in a year, or of it doesn't fit exactly right, then get rid of it. That makes sense to one part of my brain. But the other part, or perhaps more likely my heart, can't process that. I am emotionally attached to my clothes, and therefore cannot get rid of so many of them. There is a story, a memory, a connection to every single item hanging in my closet, and I don't want to let these memories go.
I tried my very best the other day to get rid of some things as I held up the Ann Taylor heather gray wool suit (the one with the subtle A-line skirt and small gathering of pleats in the back) to my husband, and asked if he thought I would wear it again.
"Are you planning to interview at an investment banking firm?" he remarked with a smile. It was clear that I would have no occasion to wear the suit again, but still I couldn't part with it. That was my first real professional (and also what I believed to be stylish) skirt suit that I bought while earning my MBA in 2001. I wore it to countless interviews, and it brought me lots of luck. I felt good in it—really good, and confident too. As I looked at it on the old wire hanger from the dry cleaner, it reminded me of learning and being nervous and rising to the occasion and feeling like I had it together—even if it was just for a moment.
These days I do most of my freelance writing work from my office at home or at the Starbucks in town, where I feel dressed up in skinny jeans, ballets flats and a soft long sleeve T-shirt. If I'm meeting with someone for an article or book research, I'll dress it up with a velvet, or perhaps corduroy, blazer. Maybe that Ann Taylor gray wool blazer will work one day with the skinny jeans. I have to keep it.
I was really trying to be tough as I gazed at the long, purple silk skirt and sleeveless, pink cashmere sweater with applique flowers on it laying at the top of my "to donate" pile. My mother bought this unique ensemble for me to wear to my engagement party back in 1999. Planning and shopping for my wedding helped my mother forget about being sick and her cancer. It gave her hope for the future. The cancer eventually did take over, and she lost her battle just a few years after she bought me the outfit. I can't part with that sweater and skirt. It reminds me of the day we bought it, when my mother's sister stood by her side in front of the dressing room at one of our favorite boutiques and told me that I looked like Gwyneth Paltrow in it. Note: I look nothing like GP, and this was long before she consciously uncoupled. In fact, she hadn't even consciously coupled yet. It was back in the days of Gwyneth and Ben Affleck and Shakespeare in Love and my mother shopping with me and exchanging a lot of love and laughs and sweet memories in the process. I kept the outfit. How could I not?
RELATED: 20 Engagement Gifts That Stand Apart From Bridal, Bachelorette, Or Bachelor Presents
I was all set to donate the Lilly Pulitzer turquoise and hot pink mini dress that I wore almost every day on my honeymoon in Hawaii over 16 years ago. It was actually my husband who told me to keep it. I got it. I am wearing that dress in one of my most favorite pictures of the two of us. A lone beach walker snapped it just as the sun set in an amazing mosaic of colors overhead. We look so young and innocent and ready to take on the world. It was pre-kids, pre-carpools, pre-home ownership, pre-grownup life. I see all of that innocence and hope in the dress. It's a keeper and perhaps a hand-me-down for my 9-year-old daughter. Lilly Pulitzer never goes out of style, right? Or maybe it never is in style, but that never stopped me from wearing it. I hope the same will be true for my daughter.
I also wonder if and when some of these beloved items of mine will come back in style—another good reason not to get rid of them. I so clearly remember my mother telling me that she wished she had saved her mini-skirts from the '60s and bell bottoms from a decade later for when in fact they did come back in style. I remember her going to a 1960s themed party wearing her wedding dress, because that was the only piece of clothing she had from the decade.
It looks like I'm good to go for just about any decade-themed party—another bonus to being emotionally attached to my clothes. Whatever the case, I'm okay with it. I accept it. I'm attached to my clothes. They hold so many memories that I'm not quite ready to part with—at least for now.
This article was originally published on