'The Facts Of Life' Cast Is Reuniting For A Holiday Special
by Julie Scagell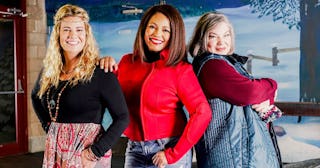 Lifetime
The stars of 'The Facts of Life' and the holidays? Sign us up.
Anyone of a certain age most definitely lists The Facts of Life as one of their after-school favorite shows of all time. We'd get to hang with Tootie, Blair, Jo, and Natalie (and George Clooney if we were lucky) and watch the lovable and always frazzled Mrs. Garrett try to hold down the fort. It was divine. Now, the stars are reuniting for a holiday movie and it's bringing back all the nostalgia.
Lisa Whelchel, Mindy Cohn, Kim Fields, and Nancy McKeon are back on the screen together in Lifetime's new holiday movie, You Light Up My Christmas. Fields is also the movie's executive producer and described the cast members as her "sisters," inviting them to star in the flick.
"We're sisters. We have a ball when we get to hang out personally and holidays are about family, memories and fun. So, when the opportunity came up to combine all of that with You Light Up My Christmas, I invited Lisa, Mindy, and Nancy to make some fun, Christmas cameos and was thrilled they all enthusiastically jumped on board," Fields said in a statement.
For those unfamiliar, The Facts of Life was a spin-off Diff'rent Strokes, both starring the legendary Rae, who played Edna Garrett, the head of the all-female boarding school the girls grew up in. Fans got to follow their friendships, love interests, and shenanigans for nine seasons (from 1979-1988) until they were adults running the store Over Our Heads. It was everything the 80's should be — and more.
"It's been amazing to work together again and have the ladies' input on their characters from their wardrobe to names, as well as provide fun inside jokes for fans," Fields tells PEOPLE in a statement. "I also had the production name the ice-skating rink in the movie after our dear friend, Charlotte Rae, who passed away last year. We truly are a family so it was great to work together on something new!" Rae passed away last year at the age of 92.
You Light Up My Christmas is inspired by true events and tells the story of a girl who returns to her hometown, built around her family's pioneer Christmas factory, right before the holidays and finds the once-cheery town is now dark and dismal. She reconnects with a former flame (because it wouldn't be a holiday movie without some long-lost romance) to "set their hearts and the town ablaze with light again," according to Lifetime.
You Light Up My Christmas is a part of Lifetime's annual all-day holiday programming event — "It's a Wonderful Lifetime" — which begins this year on Oct. 25 and runs through Christmas Day, and will air on December 1. The Lifetime programming features 30 holiday-themed movie premieres that many of us look forward to all year. The holidays are stressful but thanks to Lifetime, it's movies like this that will get us all through.