The First Trailer For Stephen King's 'IT' Is Here, And Holy Sh*t It's Terrifying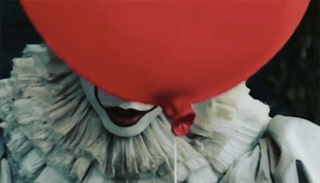 The first trailer for Stephen King's 'IT' is here. Hide your kids
A big screen adaptation of Stephen King's IT won't be out until fall, but the official trailer dropped today, and it's terrifying.
IT premiered in 1990, and the image of Pennywise — an evil, murderous clown — has been traumatizing people ever since. It's pretty easy to see why, an evil demon who can shape-shift into a clown, feed on children's fears, and kill them is pretty much the recipe for eternal nightmares.
https://www.instagram.com/p/BSRSSg5gNfc/?tagged=itmovie
After all these years, the original IT has retained its creepiness, so it was hard to see how they could really outdo it.
They did. Turn the volume down and make sure your kids don't catch even a glimpse of this unless you want them sleeping in your bed forever.
NOOOO. No. Don't go near the sewer drain, kid! Wtf are you thinking? And get out of the sewer! And turn that damn slide projector off. ARGH.
"Mama director Andrés Muschietti is now behind the project, the first part of which is officially called It: Part 1 – The Losers' Club, and Hemlock Grove star Bill Skarsgård is playing the evil clown," reports The Guardian.
This is sure to haunt a whole new generation of kids… and their parents.
The movie will be in theaters September 8.
This article was originally published on