'The Game Of Life' Just Added Pets, So Time Fill Your Plastic Car With Kitties And Pups
by Valerie Williams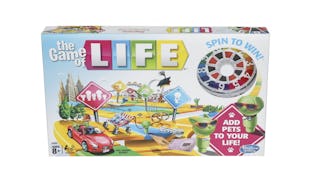 Image via Amazon
The Game of Life just added dogs and cats
Remember playing The Game of Life as a kid? Did anyone ever actually finish a round? In my family, it always ended in a cloud of fake money being tossed in the air after an epic fight over the rules or when my pouty youngest brother realized he was going to lose and had a fit. Ah, family.
Anyway, the makers of the game found a way to make it that much more fun and exciting by adding pets. That's right — instead of just collecting little pink and blue kids, players of the game can now collect pets too. And let's be real — what's better to collect than kitties and doggos?
In this new version, each player starts out with a car, a "Spin to Win" token, a kiddo peg (either pink or blue), one pet peg, and $200,000.
Look at these furry little babies in the backseat. My heart.
There's even pet-related game cards that force you to part with your hard-earned fake money for things like vet visits. As the momma of a pair of shelter pups who seem to hit up the vet at least once a month, I can safely say this is #realistic.
Just like the old version, players can still get married, find jobs, go to school, or have kids — but now, they can get a pet too. And why did it take this long? Tons of couples, whether they have kids or not, often start out with a little canine or feline "baby". Now The Game of Life reflects actual life that much more.
As a kid, I think I would've preferred a backseat full of puppers to a backseat full of kids, TBH.
You can buy The Game of Life (plus fur babies) on Amazon now for $19.99. Happy pet-collecting!
This article was originally published on