The 'Great American Baking Show' Was Cancelled. Can You Guess Why?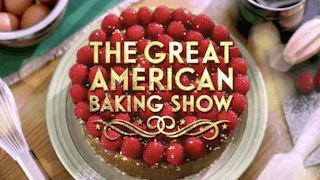 Image via ABC
Winner of 'The Great American Baking Show' won't get her moment in the spotlight, thanks to Johnny Iuzzini
If you're familiar with cooking competition shows, you know that a win can make a person's career. Chefs who win Top Chef go on to open restaurants and even reach celebrity status. It's the same with bakers who win high profile televised baking competitions like the Great British Baking Show. Which is why when Vallery Lomas won the American incarnation of the popular British show, The Great American Baking Show, she was probably planning on a very real career trajectory and some of the same acclaim.
The show premiered at the beginning of December, and the first episode got 3.7 million views. I watched it. You probably did, too. The show was set to run as six, hour-long episodes — scheduled to run two at a time over a three week period. That's six hours of television that had already been taped, culminating in the season finale which was supposed to air on December 21. But not long after the very widely watched first show premiered, sexual harassment allegations against the show's host (celeb-status baker Johnny Iuzzini) stopped the show in its tracks.
"On December 13, Lomas got a phone call from a producer," the Village Voice reported. "After airing only two episodes, The Great American Baking Show was being pulled from ABC's schedule after Mic reported on allegations of sexual assault against Johnny Iuzzini, a high-profile chef and one of the show's judges."
Mic's initial report detailed allegations of four former employees of Jean-Georges, the fancy New York restaurant where Iuzzini served as pastry chef. One pastry chef who worked under Iuzzini for two years said the chef would regularly slide up next to her and put his tongue in her ear. "I cried every time," she said. "I left because of the way that he treated me." Other employees described the atmosphere created in the pastry kitchens under Iuzzini as "rampant with sexual harassment." Then Mic ran a follow up report with even more allegations from former employees who claimed he "abused his power and influence over female subordinates and associates."
After the second report surfaced, ABC took action. Despite having received nearly 4 million views in its first episode, the network decided to pull the show — and the remaining four episodes, including the finale that would announce Lomas as winner. Instead, Lomas got a 15-minute Facebook live video, which was viewed by under 10,000 people.
"I was in shock," Lomas tells the Voice. "I was in shock."
"An ABC spokesperson couldn't confirm whether or not the show will return in some other form in the future, without Iuzzini," reports the Voice. Whether or not it returns — that does nothing for the people who already dedicated their time to filming the first season. And it certainly does nothing for Lomas, the winner who will now get no acclaim for her hard work.
Former winners of the Great British Baking Show have gone on to very quick stardom and career advancement. One is now a coveted food writer. Many host cooking shows. Some have published books and gone on tours. Lomas had a book proposal already written — one that will likely not be as pitchable without her televised win. "I devoted significant time to writing this proposal that was based on a show that didn't air," she says.
"I'm indeed still working on a cookbook," she tells Scary Mommy. "So many people were disappointed that they didn't get to see the winning recipes, so I'm working on a blog post to share one of those soon." Her blog, Foodie In New York, shares recipes and also has her account of what happened.
Here's another image of her WINNING the show.
"You are certainly not the first person who has told me they had no idea why the show didn't record," she replied when I told her I had no idea why the show had stopped showing up on my DVR. "I don't believe there was any mention on the network or any of the social media channels. Just a press release. It has truly been an unfortunate situation all around."
Yes, indeed it has. Not only are there several women who have allegedly been victimized by Iuzzini — but the ripple effect of his alleged actions have hurt others as well. All of the people who worked on the show — and especially Lomas, who will not get the deserved acclaim for her win.
"I firmly believe that every woman (and person) should have such safe spaces to exist," Lomas wrote on her blog, after she learned the show would not air. "As a society, we must shift our focus to ensuring that those safe spaces are created–whether it's for young athletes, actors, or pastry chefs. No matter the field, and no matter the target, we must take a stand so that we all have safe places for our voices and our bodies."
Lomas stays remarkably positive about the whole experience. "Although the disappointment of the show not airing is still fresh, I am no less determined than I was during the final challenge… I'm holding on to that same perseverance now. I'm making lemon curd from these lemons."