These Kids Remind Us That Small Acts Of Kindness Will Change The World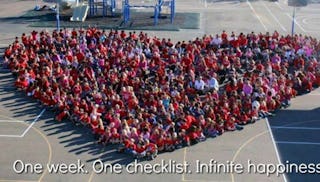 Image via Facebook
The Great Kindness Challenge inspires small acts of kindness
If there's one thing I think we all can agree on, it's that the world could use some extra kindness — STAT. Fortunately, the Great Kindness Challenge – a weeklong initiative from January 23-27 designed to inspire small acts of kindness — is here just in time to give our kids (and ourselves) the little boost we need.
The grassroots organization was founded by Jill McManigal from Carlsbad, California, who started the project in her backyard with her children and neighborhood friends. Together, they created "Kids for Peace," an international non-profit organization that launched the Great Kindness Challenge – a five-day challenge undertaken by schools and youth groups to encourage kids to perform as many acts of kindness as possible over the course of the school week.
"Schools were looking for way to proactively create a culture that was happy, respectful, inclusive and kind," McManigal told Scary Mommy. "The Great Kindness Challenge grew from that need."
The challenge itself is pretty straightforward, is designed to complement whatever character-building programs the school might already be using. Students receive a checklist of 50 simple kind acts they can complete during the week, and the school receives a comprehensive toolkit to facilitate the weeklong challenge. Many of the things on the list are probably things the kids are already doing or things they want to do, but need a little nudge, such as sitting with someone new at lunch or bringing a flower to the office staff. My personal favorite? Entertain someone with a happy dance.
"Our goal is to make kindness a habit and create school environments where every student can thrive and carry that positive energy into their community and the world," McManigal told Scary Mommy.
Designed to be used by schools and youth groups, the Great Kindness Challenge can easily be adapted for adults too. In fact, maybe we're the ones who need it most these days. Fortunately, McManigal told Scary Mommy that a family edition is in the works.
Even though the challenge officially runs from January 23-27, it's not too late for schools to get on board. The challenge toolkit and resources are available at any time throughout the year. After all, kindness is always in season and the weeklong challenge can be a jumping off point for families looking for ways to make kindness a priority.
What started with three local schools in 2012, grew to 263 schools the following year, and this year, more than 13,000 schools and over 10 million students across the country are participating in the challenge. "Schools are telling other schools about the Great Kindness Challenge after seeing the uplifting impact on their own school and the way their school culture was elevated," McManigal said.
Not surprisingly, McManigal said response has been positive. Doing good makes you feel good, after all. "I see that everyone is just a bit more or a lot more happier," McManigal told ABC News. "There is such a power in doing for others, and also from receiving."
All of the materials are free, and the organization has over 25,000 volunteers — including Kindness Ambassadors — to implement the challenge in schools. Kids don't need to stick to the items on the list either; they're encouraged to think of their own acts of kindness. In addition to the Great Kindness Challenge, the organization also coordinates a global service project that unites American schools in an effort to build a school in another country. Last year, the organization built a school in Kenya and this year students and schools can contribute to the Kind Coins Campaign to help build a school in Pakistan.
"As the children are given permission to go out there and really exert their kindness," McManigal said. "It creates this joy that is palpable on campuses."
Kindness-induced joy? Sounds like something the world could use a heaping dose of these days. Now if you'll excuse me, I need to go entertain my kids with a happy dance and check that one off the list.
Kids for Peace:The Great Kindness Challenge… by bragsavagery
This article was originally published on