Trader Joe's Has Tiny Grinch-Inspired Christmas Trees That Can Grow To 30 Feet Tall
by Julie Scagell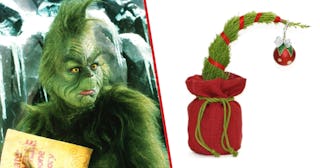 Universal Pictures/Trader Joe's
This Grump Tree will turn any frown upside down
Everyone has a Grinch in their lives. They always seem to find the negative in situations, rarely get excited, and believe the "glass half empty" approach to situations is the safest route. What if I told you there was something you could buy them guaranteed to put a smile on their face? Trader Joe's Grinch-inspired Grump Cypress Christmas Trees is the gift that keeps on giving and will have them saying, "Help me… I'm feeling happy feelings" in no time.
The Grump Tree is a mini Christmas tree slumped over to one side like the Grinch himself, and is decorated with red ribbon wrapped around it and a sparkly Christmas ornament hanging from the top. The base is a four-inch pot overlaid with an adorable red bag tied with green ribbon. I don't care how grumpy a person is, this tree will light up any room.
You can only find The Grump Tree at Trader Joe's and it's selling for $8-$9 (depending on the location). The tree itself is a lemon cypress tree native to California so it will look and smell amazing all throughout the holiday season.
According to Trader Joe's website, "Much to the tree's dismay, you will delight in the playfulness of this curmudgeonly conifer, whether it's displayed on a dinner table or desk." But wait, there's more." After the holidays, simply remove the decorative ribbon and ornament, prune the tree to your desired shape and size, and it will resume an upright growth pattern that can be enjoyed all year long, which means you can plant it in early Spring and it can grow up to 30 feet tall.
Not every Trader Joe's has them in yet, so definitely call your store ahead of time to check because there's just no reason to put pants on if you don't have to. And just like the story goes, "Maybe Christmas," the Grinch thought, "doesn't come from a store. Maybe Christmas… perhaps… means a little bit more." This is completely true except in this case because you can buy happiness in tree form at Trader Joe's.
This is the perfect gift to bring for a holiday party, give to your favorite grumpy boss, or put in your kids' rooms to remind them of their favorite holiday movie. Everyone hates to love The Grinch, but we do. The holidays just wouldn't be the same without him.
This article was originally published on