You'll Want To Learn This Dad's Genius Method For Curling Hair
by Megan Zander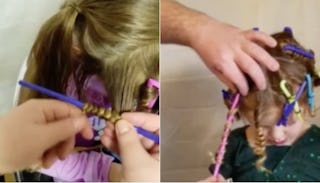 Image via Facebook/Greg Wickherst
A good night's sleep and a trip to the dollar store are all you need to give your kid a head full of curls
Greg Wickherst is a single dad with a flair for doing his daughter's hair. From five stranded braids to curly mohawks, he creates looks for five-year-old Izzy that are sure to turn heads on the playground. Wickherst shares tutorials of his hairstyles as The Hair Dad to help mere mortals like us up our styling game. His genius technique for getting overnight curls is one you'll want to try with your own daughter the next time she's in the mood to glam it up.
Using a bag of disposable bendy straws and elastics purchased from the dollar store, Wickherst makes bendable curlers to give Izzy a head full of bouncy, gorgeous ringlets.
First he wraps a small section of hair around a straw.
Then he bends the ends in and secures them with an elastic.
It's no secret that bendy curlers and tight curls like this have been around forever. It's Wickherst's use of the straws and how they're the perfect size for a child's head that makes this such a 'why didn't I think of that' idea. He notes how budget friendly straw curlers are. "The straws I used for the video have been used several times to do her hair. You can definitely use the straws repeatedly," he tells Scary Mommy.
He repeats this process until her whole head is in straw curlers, and then it's bedtime.
If you think your daughter would love the finished look but hate sleeping with things in her hair, fret not. "The straws are plenty comfy, she has never complained about having them in her hair," he says. The trick is in the straw placement. "I usually don't place them right next to the scalp, so it doesn't pull when she's sleeping."
In the morning, he cuts the elastic on each curler.
Then he separates each curl into several ringlets for a head full of heat-free, tight spirals.
Although his hair styles look complex, Wickherst says anyone can learn to style hair. It just takes time and practice. "I work at a college that teaches, among other things, Cosmetology," he explains. "I spent about an hour and a half learning from a student how to do braids, buns, and ponytails. After that, I went home and practiced on her."
While we think a head full of swingy curls is perfect for every occasion, Izzy and and her dad used straw curls to transform her into Merida.
"I was in a contest with some other dads that do hair and the contest was for who could do the best Disney inspired hairstyle," Wickherst explains. "I immediately thought to try and find the hardest style I could find. I wanted to challenge myself. I saw Merida and knew that was going to be a hard one."
They entered the contest as Merida and King Fegus.
They won, obviously.
Valentine's Day is just around the corner. But when you daughter turns to you the night before and says she wants to look special tomorrow, as long as you have some straw and rubber bands lying around, you'll be ready.
This article was originally published on