'The Handmaid's Tale' Is Filming In D.C. And The Pictures Are Haunting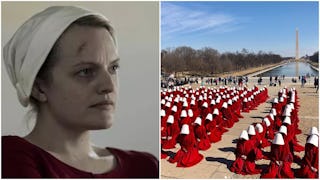 IMAGE VIA GEORGE KRAYCHYK - © 2018 HULU / IMDB/Evy Mages/ Instagram/Washingtonian
Pictures of The Handmaid's Tale filming in D.C. are eerie AF
It's really only fitting that The Handmaid's Tale, a show that echos our current administration's desire to restrict some of women's rights, would film in Washington D.C. last week. More than 200 actors dressed in bright red handmaid cloaks gathered at the Lincoln Memorial and the pictures are…really something else. Prepare to experience a whole lot of chills.
Evy Mages, a photographer for the Washingtonian, captured the sprawling scene of handmaids in their cloaks and white bonnets, kneeling down. Elizabeth Moss (Offred) was spotted at the top of the steps, alongside Joseph Fiennes (Fred) and Yvonne Strahovski (Serena). The Washingtonian noted that Fiennes was heard saying: "Lord above, we beseech you. Hear our prayer," right before the handmaids got down on the ground.
Other locals spotted the filming and snapped their own pictures – which were all equally striking and powerful. Twitter user @RachelHBluth very aptly noted: "It says something about 2019 that we had to see this up close to figure out if it was a protest or filming for the Handmaid's Tale season 3. (It's the latter)."
The upcoming season will premiere on June 5th and there's already a very chilling promo that's been released:
We can expect to see June fight back against the regime of Gilead, despite some very, very difficult odds. "Startling reunions, betrayals, and a journey to the terrifying heart of Gilead force all characters to take a stand, guided by one defiant prayer: 'Blessed be the fight,'" Hulu noted.
Some significant characters will definitely return, including Commander Lawrence (Bradley Whitford) – though it's pretty up in the air as to where he'll end up this season.
"You never know what he's willing to do and what he's not willing to do," showrunner Bruce Miller told The Hollywood Reporter. "He seems a little gone, with a glint in his eye. So that makes him very tough to predict, what he's going to do. He can be helpful, or not so helpful."
And, yup, Aunt Lydia (Ann Dowd) did indeed make it out of that brutal knifing alive. "The first thing we said [to Ann] is, 'You're not dead, but it's going to be a pretty brutal scene,'" executive producer Warren Littlefield told Entertainment Weekly Radio. "She was completely up for it."
Well, here's counting down the days until the new season returns. In the meantime, the handmaids at the Lincoln Memorial will haunt my dreams for several nights to come.