Break Out The Waterproof Mascara, Because MTV Is Rebooting 'The Hills'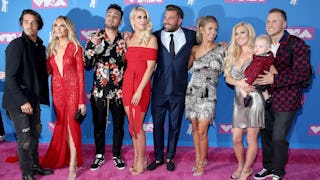 Image via Paul Zimmerman/WireImage
We're actually getting a reboot of The Hills — and yes, it will feature the original cast
Millennials had hardly calmed their hyperventilating at seeing the cast of The Hills reunite on the VMAs red carpet when MTV made the announcement that caused us all to shed a single, mascara-filled tear: The iconic reality (ish) show is getting a reboot.
Go ahead. Cry your tears of joy. Just put on waterproof mascara first.
MTV dropped the teaser for The Hills: New Beginnings just after Heidi and Spencer Pratt, Audrina Patridge, Jason Wahler, Justin Bobby, Stephanie Pratt and Frankie Delgado had their red carpet reunion. Apparently, the reboot will focus on their lives years after leaving the show, now that they're grown up and raising families. You know, just like all of us who obsessively watched their post-high-school lives unfold onscreen.
Yeah, listen to that modern twist on Natasha Bedingfield's "Unwritten" and just try not to get chills.
Every cast member who was on the VMAs red carpet is set to appear in the reboot. Whitney Port, who wasn't able to make it to the VMAs, will reportedly be part of the show, too.
But as much as we're stoked to catch up with the lives of Speidi, Justin Bobby, Audrina and Whitney, there are some notable names missing from the reboot cast. Lauren Conrad will, unsurprisingly, not be a part of this, which feels a little wrong. How can a Hills reboot even happen without the show's queen and savior, LC?
We can't really blame her, since she's busy being married to that heartthrob William Tell, raising their first son and designing literal princess dresses.
The reboot will also be missing Brody Jenner, who is reportedly trying to score his own reality series. Lo apparently isn't taking part. And Kristin Cavallari is obviously busy with her own (very successful) reality series about her post-Hills life. Basically she did this reboot before the reboot was cool, because of course she did.
No release date has been set yet for the rebooted series, so you probably have time to binge watch the original to prepare. Better throw in Laguna Beach while you're at it. It's been a while.