Founder Of 'Drag Queen Story Hour' Writes Adorable Children's Book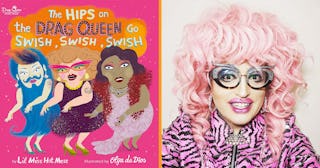 Amazon and Lil Miss Hot Mess/Instagram
The book follows a drag queen's performance on stage
There's a fun book available for kids written by one of the founding members of Drag Queen Story Hour and playing off "The Wheels on the Bus," and you're gonna want to buy it for your kiddos as soon as possible.
According to the book's description, "The Hips on the Drag Queen Go Swish, Swish, Swish," is a "fun, freewheeling celebration of being your most fabulous self," which "encourages readers to boldly be exactly who they are. This playful picture book offers a quirky twist on a classic nursery rhyme by illustrating all of the ways to "work it." The story follows a drag queen who performs her routine "in front of an awestruck audience. A fun frenzy of fierceness, this book will appeal to readers of all ages."⠀⠀⠀⠀
⠀⠀⠀⠀⠀⠀⠀⠀⠀
Author Lil Miss Hot Mess was among the first Drag Queen Story Hour members, and, according to Family Equity, serves on its global leadership team. She's been hosting readings of her book at ICA LA, RuPaul's Drag Con, Vice Media, and other schools and venues across the country.
According to the reviews on Amazon, it's already a winner. "This book's gonna werk, werk, werk all through Pride Month and beyond. Drag persona Lil Miss Hot Mess rewrites 'The Wheels on the Bus' to create a fun, movement-filled, family-friendly celebration of drag. . . . Appropriately psychedelic. . . . Fun, fun, fun all through the town!"Kirkus Reviews wrote.
In an interview with Family Equity, Lil Miss Hot Mess said the goal of the book was so "kids and families to be able to experience some of that joy and magic at home," the same way they do during Drag Queen Story Hour. "The book is based on a song I'd been singing with kids at story hours, and I love that it doesn't just teach kids the basics about drag, but it really gets them to try it out a bit by feeling that creativity, self-expression, and fabulousness in their bodies!"
The author has been sharing some seriously adorable posts of her word baby out in the world being enjoyed by families. "In honor of my book's first birthday, I'm posting photos of kids and families enjoying it in all their fabulousity! Truly nothing makes me happier than to see these out in the world!!!"
Of bringing LBGTQ+ stories to families, she said: "I always say that drag performers (and LGBTQ+ people more broadly) are part of every community: we're already in libraries, schools, and community spaces whether we're sparkling in our sequins or leading quieter lives. And, all kids deserve to learn about the diversity of the world around them, including the contributions of queer/trans people and social movements."
This is one that should be in every kid's library.