If You Had A C-Section, Your Body Did Not 'Fail' You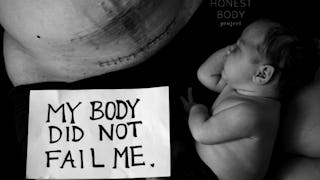 Image via Natalie McCain Photography
Mom embraces her c-section scars, "My body did not fail"
Natalie McCain is a photographer and mom of two who's on a mission to help women find beauty in the changes their bodies go through after having children. Through The Honest Body Project blog and the newly released The Honest Body Project book she shares raw images of what real mom's bodies look like without the benefits of Photoshop or filters.
All of McCain's photos and the stories that accompany them are powerful, but her recent series of photos taken mere days after one woman's c-section will remind you how incredible our bodies truly are.
In a series titled "My Body Did Not Fail Me," McCain shares the photos and story of Jacqueline, a mom with two older children who just had her third baby via c-section. The photos are intense, with her stapled incision on full display. But while some might see a c-section as a sign that their body failed, both McCain and Jacqueline see her scars as a sign of success.
"When I was 24, doctors found that my left over was extremely enlarged," Jacqueline explains on the website. "This led to months of tests, doctors, oncologists and surgery. I have a family history of ovarian cancer and they couldn't tell exactly what it was, or why it was growing so fast. My surgery ruled out cancer and I was diagnosed with aggressive Endometriosis. I have a scar from my belly button to my pelvic bone, one less tube and ovary, and what tissue the doctors couldn't get out."
She and her now husband decided to try quickly for a family. "My boyfriend (now husband) and I were told that if we planned kids it might be hard, if at all possible, and with as advanced as my Endometriosis was, I may be faced with losing my other ovary or need a hysterectomy one day," Jacqueline recalls. "A year later, and just before my wedding we decided to beat the clock and try for kids. We decided on four kids, as the endometriosis is there like a ticking time bomb, and I don't want to have any regrets."
It took the couple years to conceive. So while their daughter's c-section may not have been the plan, they certainty didn't view it as a failure. "It took 4 years to get our oldest daughter, and after five days in labor we wound up with a c-section," she says. "I hear a lot of talk from other moms about wishing our bodies didn't fail. How a 'traditional' birth would have been better, and wondering how we wound up here. I can tell you I didn't plan on a c-section. I didn't want a c-section…but my body didn't fail."
"I love Jacqueline's mindset about her c-sections," McCain tells Scary Mommy. "My hope is that her message will help other women who struggle after having a c-section. Your body didn't fail you!" She feels her work has resonated with so many moms because it's common to feel uncertain in your skin after surgery. "Since I began The Honest Body Project in 2015, I have received countless messages from mothers struggling after their c-sections," she says.
Jacqueline was a warrior during her photo shoot. "When I photographed Jacqueline she still had her staples in from surgery, and she was still in pain," says McCain. "All I could think about is how strong she was, how inspiring she was for posing for these images, and how amazed I was by her and her body! C-sections are not the "easy" way out."
"Jacqueline's message about her c-section is so powerful because it shows that we should not shame our bodies and that they didn't fail you. I hope that other mothers feel affirmed by her message."
C-section birth or vaginal, McCain's goal is for all moms to love their bodies for what they were able to do. "The Honest Body Project is all about empowering women and ending body shaming. Her message falls right into the inspiration for my project — don't shame your body, appreciate it and celebrate it!"