Pinterest And The Knot Will Stop Promoting Wedding Content That Romanticizes Slave Plantations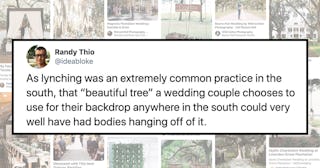 Scary Mommy, Pinterest and Randy Thio/Twitter
Slave plantations are not places to romanticize and now major wedding planning sites finally agree
When it comes to planning weddings, brides and grooms-to-be typically head straight for Pinterest and The Knot to get the ball rolling on wedding locations, flowers, ceremony ideas, and the like. For years, Southern slave plantations have basically been re-branded to appeal to brides and grooms as romantic wedding locations — but that's coming to a halt, at least as far as Pinterest and The Knot can control it.
According to Buzzfeed News, The Knot Worldwide (parent company to The Knot and WeddingWire), is working on new guidelines for wedding vendors to ensure they don't try to market slave plantations in a romantic, glorified light. While they can still be listed as venues, vendors aren't allowed to gloss over Southern plantation history or use adjectives like "charming" or "elegant" to describe them.
"We want to make sure we're serving all our couples and that they don't feel in any way discriminated against," chief marketing officer Dhanusha Sivajee tells BuzzFeed News. She notes that former slave plantations have changed their names to manors or farms, but they still have to abide by the new rules for The Knot websites and disclose that they are, in fact, former plantations.
Pinterest will change its policies to limit the distribution of plantation content by turning off search recommendations, autocomplete and email notifications. The company is also working to ensure plantation content doesn't appear in online search results by deindexing their existing content.
"Weddings should be a symbol of love and unity. Plantations represent none of those things. We are grateful to Color of Change for bringing attention to this disrespectful practice," Pinterest tells NBC News.
Anyone who searches for plantation-related content on Pinterest will also see an advisory that some of the results may violate Pinterest's policies. Additionally, Pinterest will make sure no ads show on those search results so the company does not make money from them.
Both sites announced the changes to their policies after being contacted by Color of Change, a civil rights advocacy group.
Plantation weddings are, arguably, A Thing for privileged white couples — even celebrities like Blake Lively and Ryan Reynolds celebrated their wedding at Boone Hall, a former slave plantation in South Carolina. While the wedding was beautiful enough for Martha Stewart to write about, that doesn't erase the fact that the home where the wedding was has a history of violence, torture, imprisonment, and pain against black slaves. Why on earth anyone would want to get married at a place like that is, at the very least, willful ignorance at work.
Many people seem to be very supportive of the crackdown on plantation glorification.
Others were less… enthusiastic about the minor change that will in no way affect their lives or their own history.
https://twitter.com/jetpack/status/1202623663943516161https://twitter.com/jetpack/status/1202625540701773824
While it's great that these companies accommodated the request, there's still got a long way to go with this wedding trend. A quick search of the hashtag "#planationweddings" on Instagram yields more than 14,000 results.
"The decision to glorify plantations as nostalgic sites of celebration is not an empowering one for the Black women and justice-minded people who use your site," the organization wrote to the Knot Worldwide executives, according to Buzzfeed News. They also sent Pinterest a similar letter.
"Plantations are physical reminders of one of the most horrific human rights abuses the world has ever seen," the group says. "The wedding industry routinely denies the violent conditions Black people faced under chattel slavery by promoting plantations as romantic places to marry."
The changes to Pinterest and The Knot are expected to unfold within the next few weeks.