The Late Summer Reading List That Will Blow Your Tween's Mind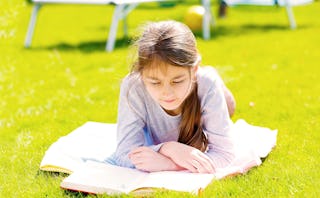 Shutterstock
Before the term "tween" was a thing, I was a tweenage bookworm, obsessed with Judy Blume and Beverly Cleary, working my way steadily through the Dell Yearling section of the local Waldenbooks. There were never enough books—I'd blow through the weekly library haul, polishing off The Secret Garden and The Westing Game in two days, left only with my older sister's tattered Sweet Dreams romances and my parents' impenetrable copy of The Hotel New Hampshire.
Lucky for me, my 11-year-old niece is as big a reader as I was, and she doesn't have a problem with me foisting my old favorites on her. I think of myself as a connoisseur of young adult fiction from the '70s and '80s, her private concierge to all the books that a preteen girl should be reading. I'll admit I have given her latter-day classics like The Giver—I don't fool myself that the only good books for kids were written before 1990.
But these are the best ones for summer reading, the most imaginative, transporting YA novels ever. These are the ones that I could barely wait to give to my niece, and the ones that could get any kid to put down the Minecraft for an afternoon or two.
1. Harriet the Spy, by Louise Fitzhugh
If Harriet lived now, she'd keep one killer anonymous Tumblr. The observations of her classmates, her heartbreaking relationship with her nanny, Ole Golly, the fiasco when her friends discover her secret notebook–what girl didn't start "spying" on her family and neighbors the minute she finished this book?
P.S. The sequel, The Long Secret, is the perfect follow-up, as it details Harriet and her friend Beth Ellen's summer as they attempt to solve a mystery in Montauk on their bikes.
2. A Wrinkle in Time, by Madeleine L'Engle
This book blew my mind when I read it at 11, and I am waiting now on tenterhooks to learn if it blew my niece's mind as well. Meg and Charles Wallace travel through space and time. I wouldn't touch science fiction, but I read this about 20 times, my wonder at the marvel of the tesseract (the fifth dimension!!) never diminishing.
3. All-of-a-Kind Family, by Sydney Taylor
This five-book series about five Jewish sisters living in a crowded apartment at the turn of the 20th century actually made me excited about my own imagination. I imagine my niece reading about the detailed make-believe house Charlotte and Gertie dreamed up in their shared bed while savoring crackers and chocolate babies (what are chocolate babies anyway?) with the same giddiness as I did.
4. From the Mixed-up Files of Mrs. Basil E. Frankweiler, by E.L. Konigsburg
I sincerely hope my niece doesn't run away to the Metropolitan Museum of Art, but I would not blame her if she wanted to after reading this book.
5. Bridge to Terabithia, by Katherine Paterson
Does any book remind you of summer more vividly than Bridge to Terabithia? I was so jealous of that incredible friendship between Jess and Leslie and of that secret kingdom they created. The book has a terribly upsetting ending but somehow I never remember this book as sad—only as magical.
6. Pippi Longstocking, by Astrid Lindgren
A red-headed nutcase of a girl who lives alone in a rambling house with a monkey and a horse she's strong enough to lift—what Taylor Swift is to girls today, Pippi was to me as a kid. I longed to live next door to her like Tommy and Annika did, and to take part in her wacky adventures. I also loved the two sequels, Pippi Goes on Board and Pippi in the South Seas, wherein she goes on the road and meets her cannibal king father.
*The book covers from our childhood included intentionally.
This article was originally published on