Here's The First Trailer For Disney's 'Lion King' Live Action Remake
by Thea Glassman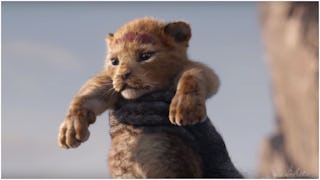 Image via Disney/YouTube
The first Lion King trailer has been released and it's everything you could possibly hope it would be
Alright, everybody. We're going to need you to prepare yourself for the first trailer of the upcoming The Lion King film. It's got action. It's got gorgeous animation. It's got the cutest little Simba. The people of the internet really weren't ready for it.
The film's Instagram page dropped the official trailer this morning and your Disney-loving heart is about to be so, so happy. Like, muttering "Hakuna Matata" to yourself and rewatching the trailer several times in a row level of happy.
In case you need a refresher: the live-action film hits theaters on July 19 and has a star-studded voice cast that includes (deep breath here) Beyoncé, Donald Glover, Billy Eichner, James Earl Jones, John Oliver, and Seth Rogen. It's directed by Jon Favreau, who is a really accomplished filmmaker and also played Pete, Monica's boyfriend on Friends, so there's wins all around.
People were feeling many, many feelings about the trailer. Most of them involved tears.
https://twitter.com/jetpack/status/1115952721469825027https://twitter.com/jetpack/status/1115961857796378624
Not to be a Debbie Downer but people were also pretty pissed that they didn't get any Beyoncé in the trailer.
Everybody can take a deep, deep breath. Beyoncé will indeed play a pretty exciting part of the film. "She's definitely in the movie because I've seen a rough cut," Eichner said during an interview on the Keep It podcast. "And I've heard her sing 'Can You Feel the Love Tonight?' with Donald Glover and I'm telling you, it's fucking good." He added that the song made him cry, so we know we're in for something pretty special and should probably pregame by stuffing wads of tissue in our pockets.
Also in the excellent news department: the animation is going to be really, really cool.
"We are going to use a lot of virtual reality tools so it feels akin to what you are looking at [if you were on a real set]. You can walk around the set like a cameraman," Rob Legato, Lion King's VFX supervisor, told The Hollywood Reporter. "[Wearing VR headsets] the actors can now walk into a scene and see the other actors and trees … and because you are in 3D, you get a realistic sense [of the environment]. That's what we are incorporating in the next version of this."
Officially counting down the days until the film is released. In the meantime, you are fully within your rights to listen to the original The Lion King soundtrack on repeat, every damn day until this is released. 100 days from now. Not that we're obsessively counting or anything.