Ep. 6: The Lullaby League Finale: Who Will Be Crowned The Champion?
by Alison Bucalo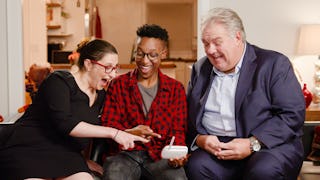 It all comes down to this! The NYC Gospel Choir and the NY Belles square off to see who can put baby the bleep to sleep. And the championship twist? TWINS.
Ten-month-olds Langston and Selma are the final obstacles for the a cappella groups, and Selma, in particular, might pose a challenge –– especially since her mom says that her alter ego (Rage-ma) is "fierce and loud and…it's a little scary."
Will the NYC Gospel Choir keep the faith in their attempt to tame the twins? Or will the NY Belles prove once again that girl power cannot be stopped? Find out on the Season One finale of Lullaby League!
[ss_featured_video]
This article was originally published on