The Trailer For 'The Sopranos' Prequel Is Here & Holy Goosebumps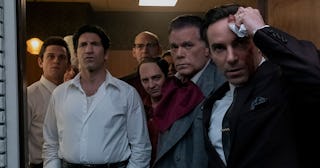 HBO Max
The first trailer for "The Many Saints of Newark" is here and it looks incredible
If you've been frozen on your couch with your jaw on the floor since the night of June 10, 2007 when we last saw the family of Jersey mob boss Tony Soprano enter a diner and fade to black, you're going to be very excited by the news that the first trailer for The Many Saints of Newark is here. The hotly-anticipated prequel to HBO's iconic 2000s series The Sopranos won't be released until later this year but the trailer is so good it will tide us over for the next few agonizing months.
"When I was a kid, guys like me were brought up to follow codes," the older Tony says in voiceover as the trailer begins.
*screams in gabogool*
The trailer opens on a teenage Tony Soprano getting into a fight and when I tell you I broke out in full-body chills, I'm not remotely kidding. You see, your eyes aren't deceiving you — young Tony really does look like the adult version because the actor playing him is Michael Gandolfini, the late James Gandolfini's son. Casting can't get any better than that.
It appears that the young Gandolfini truly nails this role, channeling his late father's voice, mannerisms, and staggering screen presence. He is Tony Soprano. The prequel will follow a young Tony as uncle Dickie Moltisanti (yes, father of Christopher Moltisanti) mentors him as he enters the "family business" amid the backdrop of the Newark riots. The film features a group of gangsters who "challenge the DiMeo crime family's control of the Jersey underworld," according to Variety.
The movie was produced in part by Sopranos creator David Chase and directed by Alan Taylor, who also directed several episodes of the series, which explains how the trailer echoes the gritty vibe of the show.
If you watched The Sopranos, you'll recall that Tony played the same sort of mentor role to Dickie's son Christopher, so it will be very cool to see that previous relationship develop and help us understand Tony's loyalty (well, until much later on) to Christopher.
And can we please talk about Vera Farmiga's spot-on turn as a younger Livia Soprano? It's honestly scary how well she taps into Livia's toxic brand of parenting during a scene where a school guidance counselor explains to an unmoved Livia that while Tony clearly isn't trying very hard in school, tests show he's actually very intelligent. "The results tell us he's a leader," the counselor says as Livia scoffs. Side note: Farmiga's version of Livia really has a Carmella feel to it that couldn't have been an accident and I'm very here for it.
If you've never seen The Sopranos, I invite you to binge it immediately so when Many Saints is released in theaters and on HBO Max on October 1, you'll be ready to dive in.