Fox TV's New Show The Mick Is The Scary Mommy We All Wish Was Our Neighbor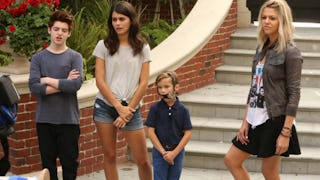 Fox Television Studios
Everyone has that one crazy aunt in their family. You know who I'm talking about. The one you spent your childhood begging about to your mom: "Can I spend the night at Aunt Becky's house, pleeeassse?" The one aunt who had no husband and family of her own, but instead whose free spirit, eccentric and mysterious lifestyle, made you, your siblings, and all the other cousins desperate to be around her.
Aunt Becky swore a lot, drank a lot, listened to loud music, and let you stay up late and watch dirty movies and drink all the Dr. Pepper you wanted. I was missing my "Aunt Becky" but not anymore — because I have found her TV replacement, and her name is Mick.
If you're not watching Fox's new hit show The Mick, you should be because she is everyone's crazy aunt Becky — times 1,000. Mick is short for Mackenzie Molng, a perpetually single woman bent on partying, staying single and childless, and the next money-making scam she can get her hands on.
Played by actress Kaitlin Olson (from It's Always Sunny in Philadelphia fame), Mick visits her uppity sister and her three spoiled rotten kids in their posh Greenwich, Connecticut, mansion, only to find herself thrown into being their temporary guardian when her sister and brother-in-law need to flee the country to avoid being arrested for tax evasion.
Hilarity ensues, as we get to watch the most non-maternal human on the planet tackle modern motherhood in the swankiest of zip codes. Mick soon finds herself as mom to a self-absorbed, know-it-all teenage girl played brilliantly by actress Sofia Black-D'Elia (Gossip Girl), a tween boy obsessed with wealth and status, and a lost-in-the-shuffle youngster vying for anyone's attention. The writing is raunchy, sharp, absurd, yet relatable, as we watch Mick come to terms with the stresses of raising kids these days while she is thrown into situations we have all found ourselves in. Also reflective of the current state of oft-insane parenting, The Mick will have you doing a little self-reflection on the lengths we all go to as parents these days.
Co-stars include the family's live-in maid Alba, played by Carla Jimenez, who will quickly become your fav and the show's underdog hero, and Mick's on-again, off-again boyfriend Jimmy, played by actor and one of the show's writers Scott MacArthur.
A situational comedy that scores on all fronts, The Mick manages to keep you both reeling in laughter and WTFs as well as be poignant and witty enough to tackle social issues such as equality, bullying, and diversity without sounding preachy. In one of the first episodes when Mick witnesses the kids bossing Alba around, she quickly shuts that shit down, reinforcing the fact that Alba is an "equal" in the household, not a servant.
Other episodes see Mick swiftly cutting down bullying and teenage binge drinking, albeit in very unconventional ways. You'll find yourself saying more than once, "I should be handling the shit my kids throw at me that way," and appreciating the dark humor and nonjudgmental ways Mick is managing to raise the kids.
The Mick is the perfect summer binge-worthy show, and you can catch the entire first season now on Hulu. It has been renewed for a second season to air this fall, so get your Mick fix now and be ready when this rollicking show returns.
This article was originally published on