The Motherhood Center Is Changing The Way We Think About Postpartum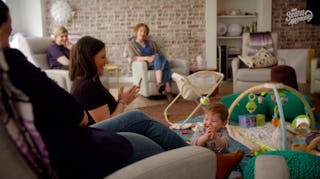 This Center is Helping Women with Postpartum Disorders and is Saving Lives
By some estimates, as many as one in seven women experience postpartum depression or anxiety. With numbers that high, chances are you have either experienced PPD or PPA or know someone who has. And yet, for some reason, no one talks about it. There is still a stigma associated with it, and many moms still feel shame because of it.
Thankfully, mental health professionals, treatment centers, advocates, and moms themselves are seeking to change all of that. One such treatment center is the Motherhood Center of New York.
The Motherhood Center provides supportive services for new and expecting moms, including a range of treatment options for women experiencing perinatal mood and anxiety disorders (PMADs). Everything from individual therapy to day programs for moderate to severe PMADs is offered to women making the transition to motherhood. The Center also offers classes and support groups so that moms feel less alone in their journey. Scary Mommy has created a video series on their work including profiles of six women who have completed the day program.
In addition to the specific services provided by the Motherhood Center, they are also changing the conversation around pregnancy, motherhood, and postpartum mood disorders. There are so many misconceptions about this unique stage of life and associated challenges that set women up for failure.
"I didn't think I'd get sucked into this idea of being this 'perfect mom,' but I didn't know how much the emotional stigma of, like, you have to be natural and nice and stern…it was just too much, it's too much for one person," said Abby, a mom who spent a week in inpatient care before coming to the Motherhood Center's day program. Watch more of Abby's story here:
Another common characteristic of postpartum depression is its unexpected nature, whether it's because we aren't really preparing new moms for the emotional and mental adjustments of motherhood or because we naturally assume it won't happen to us.
"I wasn't expecting my husband to instantly fall in love and me to instantly fall on my face," said Celine. "It was a clear line for me that something was wrong." Although she knew something wasn't right, her symptoms were dismissed by several health care professionals as "baby blues." Watch Celine's story here:
Fortunately, Celine found the Motherhood Center and got the treatment she needed. The Center is one of the first of its kind to provide mental health services to both pregnant and new moms who are having a difficult time adjusting to motherhood.
"The Motherhood Center is a treatment facility for women who are struggling with anxiety, depression, bipolar, and other kinds of emotional illnesses associated with the postpartum," said Dr. Catherine Birndorf, MD, CEO and co-founder of The Motherhood Center.
Celine praises the supportive community at The Motherhood Center. Even though the women may not all be feeling the same symptoms, she said, they are all in it together and there is zero judgment.
That lack of judgment and the support people who "get it" is not something that can be understated. I can still remember the looks I got when I dared to admit in a mommy and me class that I might be struggling a bit after the birth of my first son. When asked how we each felt about motherhood and their babies, most moms said something like "unconditional, instant love." I, on the other hand, said, "It's all just so much." And everyone stared at me with freaked out looks on their faces. I had never felt so alone, and I quickly learned not to admit to my true feelings and the way that I was struggling.
Celine says one of the things she appreciates most about The Motherhood Center is the honesty, and she uses the tools she learned every day.
"I always knew I was a really good mom," she told Scary Mommy. "They just made me understand the definition of what a good mom is."
You can learn more about The Motherhood Center on their website, and hear more about the program from some its graduates. And if you are struggling with a postpartum mood disorder, please reach out. There is help out there.
As Jessica, a mom who sought treatment at The Motherhood Center after the birth of her third child said, "You don't have to parent alone."
Join Scary Mommy in making the Motherhood Center accessible to more women in need by donating here.
This article was originally published on