The OH SHIT Last Minute Toy Guide
by Scary Mommy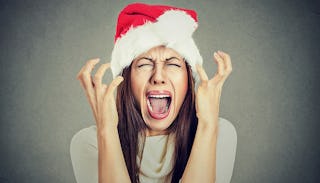 You knew it was coming, right? But you've procrastinated and and HOLY SHIT Christmas and Hanukkah are a mere days away. Scary Mommy to the rescue – here are our favorite toys you can still order for 12/25 delivery. But this is our last warning. The holidays are coming… whether you're ready or not.
1. Maisto Crawler Extreme Control Vehicle. A remote control car on steroids – four wheel drive, oversized tires with deep tread and a rugged body, it will entertain for hours on end. Batteries and rapid charger included. Regular $51.99 Sale Price: $23.94
2. Amazon Fire TV Gaming Edition. What kid doesn't love games? Amazon's Fire TV gaming edition comes with Amazon Fire TV, Game Controller, two games, a 32 GB microSD card for expanded storage, and two games. Plus the whole family can access more than 1,400 other games including Minecraft, Lego Star Wars, and Pac-Man 256. Family game night, anyone? $129.99
3. Fire HD 8 Tablet, 8″ HD Display. Is your kid is always stealing your tablet? Get them their own this year! Amazon's Fire HD 8 comes with 50% more RAM for faster performance. It even has the Alexa cloud-based voice service so little ones can just press a button and ask away… leaving you in peace. Plus, if you have Amazon Prime, you'll get unlimited access to a giant collection of books, shows, movies, and more. Regular Price: $89.99 Sale: $69.99
4. Fire Kids Edition. Got little kids? This is Amazon's tablet for them, complete with unlimited, free access to 10,000 kid-friendly books, movies, TV shows, educational apps, and games with 1 year of Amazon FreeTime Unlimited included. Also included? A a two year worry-free guarantee: if they break it, return it and they'll replace it for free. YES, PLEASE. Regular Price: $99.99 Sale Price: $89.99
5. MagWorld Toys Magnetic Construction Rainbow Colors 42 Piece Set. Electronic overload? MagWorld Magnetic Tiles to the rescue. A refreshingly simple, educational, and fun way for kids to spend their time. They might not even whine about being off screens. Regular Price: $64.99 Sale Price: $38.62
Editors may receive samples and/or a share from purchases made via links on this page.
This article was originally published on