The Photos From Trump's First Easter Egg Roll Are Making The Internet LOL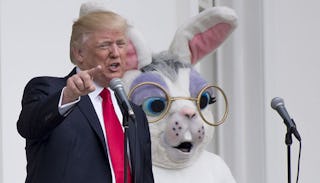 Image via SAUL LOEB/AFP/Getty Images
The White House Easter Egg Roll happened
Trump's first Easter Egg Roll was today, and people have been speculating for weeks about how it would turn out. The usual preparations were put off pretty late, and the line up was slim. Still, Melania managed to pull it off — in part by using 400 volunteers that worked Obama's Rolls.
"We will be stronger and bigger and better as a nation than ever before, and we are right on track," The New York Times reports Trump said as he overlooked the festivities. "I've seen those kids, and they're highly, highly competitive." That's not a strange thing to say to a crowd of children at all.
Here are some highlights.
Melania stepped up to briefly remind her husband how the National Anthem works:
A kid handed Donald a "Make America Great Again" hat to sign, and Donald tossed it into the crowd — away from the kid. Oops.
Photographers were on hand to capture all of the excitement of the day.
"This is the best Easter Egg Roll of all time. Yes, it is. Don't argue with me." That's probably not what he was saying, but would anyone be surprised if it were?
You're fired! I mean, Happy Easter!
Elmo is trying to remind everyone that he works for PBS — you know, that public broadcast station that Trump just decided to pull funding from.
Sean Spicer is thrilled with his audience of small children, and no press corps.
Whatever Melania is saying right now must be amazing.
This photographer is having a little too much fun.