If You're Sick Of Politics, 'The Politician' Is Just What You Need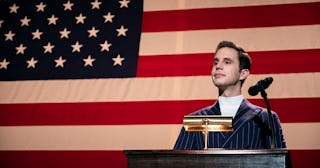 Courtesy of Netflix
As we all are painfully aware, American politics are a shitshow right now. An absolutely miserable shitshow. If you're not careful, it's easy to fall into pit of despair and turn off anything having to do with politics or politicians. But resist that urge, my friends, because Netflix's The Politician is the wild joyride we all need right now.
The show centers mega-rich kid Payton — played by Ben Platt (from "Dear Evan Hanson" fame) — and his ruthless quest to become president of his pretentious and prestigious private high school. Why?, you might ask. Well, simple: It's the first and necessary step on his path to one day becoming President of the United States. I mean, this kid has got a plan, that's for sure. I'm not even sure what I'm having for dinner tonight, but you've gotta admire (and maybe fear?) someone who knows where they're going.
FYI: There is a mental health trigger warning at the beginning of episode one (for good reason).
1. It's political satire at its absolute finest and the shade is on point.
2. It's like an edgier, more cynical but odd combination of Glee with any Wes Anderson movie.
Since it was co-created by Ryan Murphy, who created Glee, this is no surprise. But the similarities go beyond Murphy. The show's central characters are all high schoolers ready to take over the world, with the gumption and money to actually do so.
3. It's progressive AF.
Suicide, gun control, LGBTQ, gender identity…it's all in there. But in a practical, emotional, this-is-our-life kind of way. With a side of teenage snark and angst thrown in for good measure.
4. That rendition of "I Wish I Had A River" in episode one.
Chills. Absolute chills. I haven't wanted to watch a cover over and over again since Patrick serenaded David with "Simply the Best" in Season 4 of Schitt's Creek. Which is really saying something.
6. Gwyneth Paltrow is superb. And so is her character.
It almost makes up for all that Goop nonsense.
7. The supporting roles and cameos are top notch.
Martina Navratilova, Jessica Lange, January Jones, Lucy Boynton, Dylan McDermott…. need we say more?
8. It makes you laugh and then cuts you deep in the next breath.
9. It might be political satire, but it's also a love story.
Now hurry up and GO. You need this show in your life. Trust.