There's Bridesmaid Dresses For Dogs Now So Bye, Sheila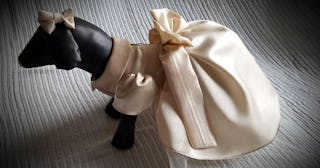 ThePoshPawsCompany via Etsy
The dresses come in 12 colors so coordinating is a breeze
For those of us who have dogs, they are a beloved member of the family and as such, we want them to be involved in as many events as possible. One Etsy shop owner is taking this to the next level by making glorious doggy bridesmaid's dresses so our pooch can look as fab as possible at their owner's wedding.
The Posh Paws Company — a Birmingham, UK-based Etsy shop is taking the guesswork out of what your furry friends will wear on the big day by creating a gorgeous line of bridesmaid's dresses fit for the queens they are (without dealing with any of the drama of actual human bridesmaids).
"So the big day coming up; not sure what's happening with poochy on the day. Well, why not complete your day by including your pooch in the bridal party, as one of your bridesmaids," their site says. Hell, yes. The gowns are made with a detailed collar and fully lined bodice, because why skip corners when you're dealing with your better halves (and no, I don't mean the soon to be spouse).
"The shoulder is finished with a gathered frill to give the impression of fitted sleeves. The bottom is a full-bodied skirt, rounded off and tapered into the underbelly, with layers of netting to promote fullness in the skirt," the description reads. But you really have to see them to believe it.
If you're still planning to have human bridesmaids and worry the colors won't match, have no fear. Posh Paws makes these gorgeous gowns in cream, orange, pale pink, pale blue, navy blue, olive green, mustard yellow, dark grey, silver grey, plum, brown, and ivory.
They also offer a range of sizes, from XXS if you have a tiny BFF all the way to L for your more rotund pals. If your dog needs something outside of those specs, just shoot the store a note and they'll do their best to accommodate your order. Prices range from $82-150 plus shipping, which is a steal when it comes to bridesmaid's dresses in general. Plus, no bridesmaid in the history of weddings will ever look as cute in one as your pooch.
If you're wondering whether you will be the only one to include your four-legged friend in a ceremony, the answer is a definitive "no." Hell, Martha Stewart has an entire slideshow about the best ways to involve your pet on the big day. And while you'll definitely want to make sure they are semi-well trained and have a plethora of food and water options available throughout the ceremony, pets can be a memorable (and essential I might add) part of the day.
If you're thinking, "um yeah, but my dog doesn't like dresses," Posh Paws has you covered there, too. Check out these adorable and elegant bows they can wear to match your color scheme.
Just make sure when you consider your bouquet they contain an acceptable number of Milk Bones.